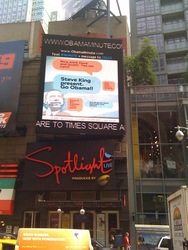 an outdoor global viewing event
Boston and New York (Vocus) November 4, 2008
Tonight in Times Square, as part of an unprecedented media flurry ABC calls "an outdoor global viewing event," a Times Square jumbotron powered by Boston-based LocaModa will make it possible for anyone to text a message to be displayed side-by-side with network coverage. Located at 49th and Broadway, the screen will display comments from across the nation, and viewers can witness the messages in real-time, both in Times Square or online at the Obama Minute website.
Messages are free with any standard texting plan, and can be sent by texting in the format below:
TO: 25622
MESSAGE: @minute Let's Go Obama!
All messages will be moderated according to outdoor media standards. Texting will begin at 3pm EST today, and will continue through tomorrow.
About LocaModa
LocaModa connects people and places. The company's social platform enables people to access and control media in their favorite places, bringing location experiences to the web and web experiences to locations. LocaModa connects people in bars, cafes, colleges, public spaces and conferences. The company is privately held, headquartered in Massachusetts and founded by Stephen Randall, a former EVP/Founder of Symbian. True to its global vision, LocaModa is internationally backed by Dace Ventures in USA, Mahindra Group in India and Sumitomo Corporation of Japan, via its US-based strategic investing arm, PresidioSTX.
For more information on LocaModa, please visit http://www.locamoda.com.
The Obama Minute Wiffiti screen can be accessed at http://www.obamaminute.com/times_square.php. Requires Flash 9 to view.
Wiffiti and the LocaModa logo are trademarks of LocaModa, Inc. All other trademarks are the property of their respective owners.
###