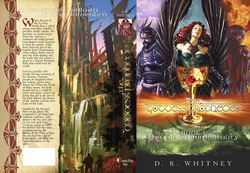 I continually encounter statistics about fantasy-based films which reinforce my belief that 'The Goddess Prophecies' can be made into a fantastic film viewer experience as well as a worldwide box office success
Los Angeles, CA (PRWEB) November 11, 2008
Top financial advisor Eric Mitchell is the latest player to enter the Hollywood pool of development interest in the highly-praised epic fantasy, "The Goddess Prophecies," by author D.R. Whitney.
"I continually encounter statistics about fantasy-based films which reinforce my belief that 'The Goddess Prophecies' can be made into a fantastic film viewer experience as well as a worldwide box office success," states Mitchell, who is producing the upcoming film "Atlas Shrugged" starring Angelina Jolie, in conjunction with the Baldwin Entertainment Group. A sought-after advisor on film financing and project distribution, Mitchell has participated in placing over US$500 million into development and production financing of 21 feature films.
Filmmaker Armand Mastroianni recently also announced his attachment interest in the adaptation of Whitney's fantasy book series, The Goddess Prophecies: "I found it to be innovative in a genre that has had virtually every aspect of the literary fantasy world explored. The book was immediately enthralling, creating a fascinating character involved in a captivating plot."
As is every novelist's dream to have Hollywood knocking on their door, Whitney, whose twenty-year journey for creating her magical world onto the page, has earned that knock. With Mastroianni's development interest, now along with Mitchell's in tow, these Hollywood players' name attachment to Whitney's epic fantasy sends a clear message about creating a serious presence in the fantasy market, as otherwise claimed by such titles as "Harry Potter" or "Lord of the Rings." "There are few properties of this quality around these days and it is a rare pleasure when you find one," adds Mastroianni. Among numerous films to his credit Mastroianni also directed the film, "The Celestine Prophecy," based on the bestselling book by James Redfield, and as co-produced by Barnet Bain ("What Dreams May Come").
Dynamic, immersive, and bound to captivate audiences with wonder and enchantment, "The Goddess Prophecies" has been developed as a multi-book series, with Book One: "The Cup of Immortality," about to make it's publishing bow in December (Crescent Moon Press).
Mitchell and Mastroianni now on board with their film development interest, and further Hollywood key participation to be announced at a later date, Whitney gears for what insiders are calling the next fantasy franchise of another kind. "'The Goddess Prophecies' was inspired by a series of dreams I had," explains the author, an Arthurian scholar with over twenty years of research on the topic. "This led me to England where I would ultimately write my epic fantasy." A successful entrepreneur, experienced in writing for media, Whitney changed the course of her life when she became fascinated with Arthurian and Celtic studies; ultimately making it her life's work.
"'The Goddess Prophecies' tells an amazing story with wonderful characters," says Mitchell. "It has all of the elements that are required to develop the novel into an engrossing fantasy-based theatrical motion picture." Taking place from the Fourth Century A.D. to the End of Days, "The Goddess Prophecies" follows one extraordinary family whose reign began in a time of white magic and mysticism. The story begins when their only child is given a powerful Amulet from the Cup of Immortality and sent out to one day save their world.
In anticipation of widespread demand, from page to screen, Whitney has already begun work on the second installment of her fantasy franchise with "The Witches Hammer," to be followed by "The Scepter of Royalty," "The Platter of Plenty," and a subsequent volume, "The Orb of Majesty."
Praise for "The Goddess Prophecies" also hails from New York's publishing elite. The distinguished John Paine (recognized for his editorial work at Penguin Group USA), states: "'The Cup of Immortality' by D.R. Whitney is a highly original fantasy. It weaves back and forth between a traditional setting and a striking alternative world set in modern times. With its well-realized characters and stirring action, I would recommend it to any reader for a fresh voice in fantasy. It's a beautifully crafted and conceptualized series."
Now several years in the making, "The Goddess Prophecies" skillfully combines sword, sorcery and spirituality with a fictional account of one woman's quest to discover her destiny. The last descendant of the Lady of the Lake, a modern and daring twenty-something inherits this mysterious Ruby Amulet and, unaware of her noble lineage, her portentous dreams lead her on an epic heroic journey. Beset by strange and wondrous creatures in a fantasy dimension of ancient and ominous worlds, she learns that she is the last of the Holy Blood, the Bearer of the Amulet, and the next Lady of the Lake. She becomes an instant target as she soon finds she is being followed by two secret societies -- a centuries-old underground organization, and the last of the knights from Charlemagne come calling. They will do anything to obtain the relic and stop her from finding out the truth: that she carries a secret that could rock the world.
"Escapism into other worlds has always held a special fascination for film audiences, as we know from the huge box office success of such films as 'Harry Potter,' 'The Lord of the Rings,' and 'The Chronicles of Narnia,'" Mastroianni further states. "I do believe 'The Goddess Prophecies' would make an epic film and be a huge success at the box office. It offers so much for the viewer including a constantly changing visual landscape, which with today's technology and advances with computer generated effects, affords unlimited possibilities."
"The Goddess Prophecies'" film development underway, with both Mitchell and Mastroianni weighing in, now begs the question: Who will be cast in the starring roles? Stay tuned!
# # #