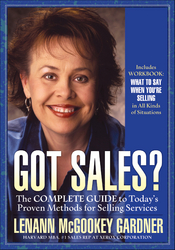 While the idea that emotions must be expressed immediately, and fully, is fundamentally flawed, if you don't express your feelings, eventually they may eat the lining of your stomach right up
Albuquerque, NM (Vocus) November 7, 2008
When times get tough, choose to react to bad news with discipline – a coping mechanism that can help you survive the bad times until the good times roll again, says Lenann McGookey Gardner, author of Got Sales? The Complete Guide to Today's Proven Methods for Selling Services.
Reacting with discipline means holding emotions in check while taking care of business basics that will get something positive done today. "So many people are overwhelmed by the lack of recent success in their business. They get discouraged and give in to negativity instead of developing strategies to dig their way out and find appropriate outlets for their frustration, anger or sense of defeat," says Gardner.
"It's hard sometimes to be tough-minded when we'd like to slow down now and say we'll come back strong next year," says Gardner. "But we have a choice about how we react to whatever happens, good and bad, and letting everything go now just sets us up for a poor start in 2009."
Gardner, who works with companies and individuals who need to sell more of what they have to offer, suggests these strategies to steel your resolve.
Disconnect Having Feelings from Acting on Emotions
Expressing emotions at the moment you feel them can lead to disastrous consequences. "You may be hurt, angered, or discouraged by something that happens," Gardner says, "but you do not have to give those emotions expression right now. While many may say, 'But I can't help it!' I say, you can help it, you're just choosing not to."
Vent Emotions Appropriately
"While the idea that emotions must be expressed immediately, and fully, is fundamentally flawed, if you don't express your feelings, eventually they may eat the lining of your stomach right up," says Gardner. "So, express the feeling, but only when it's appropriate to do so. Work it out at the gym, beat up on a pillow, talk to accepting friends who will hear you out and not be driven away. But keep positive in the workplace."
Choose to Act and Improve Your Situation
"Muster the courage, focus, desire, determination, intention, or the 'dammit, I'm just gonna do it' quality that will allow you to get something positive done. That's the best course to give you at least a hope of your situation improving," says Gardner. "You can always call a prospect, revive a relationship with a former client, even learn something new. Now's the time to do that!"
"Assuming you're not clinically depressed or otherwise ill, tell yourself that it's your choice whether to act now and improve your circumstances, or let what you've worked hard for just collapse. Make that choice, and live with the consequences."
Lenann McGookey Gardner, a Harvard MBA and a past #1 worldwide sales rep at Xerox, offers keynote speeches on state-of-the-art selling and closing skills, executive and sales coaching for business success, and workshops. Her book Got Sales? The Complete Guide to Today's Proven Methods for Selling Services is the one guidebook highlighting all the latest research and data on what's working now in contemporary selling. More information is available at YouCanSell.com (http://www.youcansell.com)
###