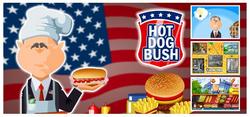 As January 20th draws near, some of you may be anxious about finding a new job or a new place to live... I know how you feel
London, United Kingdom (PRWEB) November 10, 2008
In a speech congratulating the new President-elect, outgoing US President George W Bush quipped, "As January 20th draws near, some of you may be anxious about finding a new job or a new place to live... I know how you feel". BigWig Media forsaw his dilema and created a new job for him.
"Hot Dog Bush" is a time management game which sees George W Bush moving to New York City, to sell what is quintessentially American - Hotdogs! In this fast-paced game, the player takes on the role of the US President, cooking and serving up hotdogs, burgers and fries to The Big Apple's diverse range of inhabitants. The game starts off in the Bronx neighborhood and moves up to disgruntled Wall Street. All through the game, the player needs to earn money and meet daily cash goals to climb the fast-food ladder.
'Hot Dog Bush' can be played in either 'Career' or 'Speed' mode. Players can also submit their individual scores online and compete with players around the world. Since its realease "HotDog Bush" has been played over 40 million times.
'Hot Dog Bush' is a casual online flash game developed and published by BigWig Media. Recent Comscore stats reveal the casual games market outdoes the console games market by almost double, in terms of active players. According to Comscore, more than 37% of people on the web are playing online games. Industry leaders have also predicted that Flash will soon become the main platform for the delivery of online casual games.
'Hot Dog Bush' is being distributed through BigWig Media's flash games portal 2DPlay.com. The website attracts close to 4.8 million unique visitors a month (Source: Google Analytics). A number of Flash games on the site are of political and satirical nature.
Play the Hot Dog Bush Game
# # #