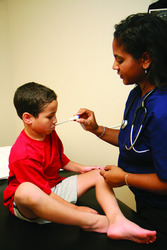 The University of St. Thomas is very fortunate to receive the backing of longtime friends and benefactors Carol and Odis Peavy to begin Phase One of our three-phase project
Houston, TX (PRWEB) November 10, 2008
The Board of Directors at the University of St. Thomas in Houston recently voted to reopen the Nursing School to help ease the shortage of nurses.
The St. Thomas Nursing School operated from 1972 to 1986, when a faltering economy caused the school to close its doors. Although the current economic climate is uncertain, a local couple have donated funds to assist UST in Phase I of development of the nursing school which will allow the University to begin the search for a director of nursing.
"The University of St. Thomas is very fortunate to receive the backing of longtime friends and benefactors Carol and Odis Peavy to begin Phase One of our three-phase project," says UST President Robert Ivany. "Their generosity allows the University to begin planning, preparing and fundraising for the next two to three years. St. Thomas is seeking the support of, hospitals, foundations and Houstonians to rebuild the school of nursing to help ease the nursing shortage in Texas and the nation."
At present capacity, nursing schools in Texas can only meet 59 percent of anticipated demand. National projections from the Health Resources and Service Administration suggest that within the next few years nursing shortages will increase due to the aging workforce of nurses and nursing faculty. The average age of practicing nurses is 47 while nursing faculty average age 57. Coupled with an environment of increasing health care needs due to a growing and aging population, the entire health care system is at risk without more nurses.
The University of St. Thomas is dedicated to building a nursing school based on the founding principles of the Basilian fathers, a Catholic order of priests dedicated to education. Presently, there is only one school of nursing in a Catholic institution of higher learning in Texas. UST has a strong health professionals foundation with a pre-health professionals program that prepares students for medical and dental school as well as other health professional programs. The school of nursing will be located on the UST campus, in Montrose.
"Caring for the sick complements our unique mission," says Ivany. "As a faith-based institution located only minutes from the Texas Medical Center, we can provide the highly educated and inspired nurses who are in such great demand. Our pre-health professionals program already provides future physicians, dentists, and other health professionals to the Houston community. We are excited to add a nursing program to our University as well."
During Phase Two, the University plans to secure facilities, hire faculty, and accept undergraduate students for a Bachelor of Science degree in Nursing. Phase Three will include the acceptance of graduate students leading to a Master of Science Degree in Nursing. Visit our Web site at http://www.stthom.edu.
###