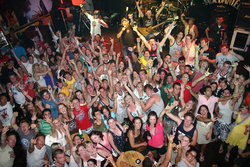 They'll get to see Asia through the bottom of their glass.
Perth, Australia (PRWEB) November 11, 2008
Travellers flock to Singapore and Thailand for great shopping, amazing beaches and relaxing holidays away from home. When Australia's Thirsty Swagman touring company (http://www.ThirstySwagman.com) plans a trip to Asia, they head straight to the pubs. This May, Thirsty Swagman offers an industry first - the world's first pub crawl tour to Asia, dubbed the Asia Annihilator Tour.
"It's the most exciting travel adventure to Asia to hit the market in some time," said Kenneth Hart, founder of Thirsty Swagman Pty Ltd. "This pub crawl is a unique way for travellers to combine a holiday with a great party, while experiencing a real taste of the local pubs and bars."
Departing from Sydney, Melbourne, or Perth, this transcontinental pub crawl will kick off in Singapore for two nights. It includes visits to the famous Clarke Quay and Orchard Road nightlife spots, followed by a three-night adventure to Thailand's renowned Patong Beach and Bangla Road on Phuket Island.
"The world's number one live music bar, Rock City on Bangla Road in Thailand, is centre stage on this tour," says Hart. "VIP entry and some of the best AC/DC tribute bands on stage make it a definite highlight."
With vastly different nightlife scenes, both Singapore and Phuket cater for those who prefer coming home when others get up for work. Ideal for the single traveller or a small group of friends, the tour is expected to appeal to fly-in-fly-out workers who like to party during their week off.
"If travellers have a week in May and want to do something extraordinary, this will be the best time of their life," said Karen Logan, Media and Online Manager at Thirsty Swagman. "They'll get to see Asia through the bottom of their glass."
The Asia Annihilator Tour includes return flights from Australia, airport transfers, 4-star twin-share accommodations (including breakfast), entry to pubs and bars (with discount drinks available at some), video production, t-shirts, and a private party / tour guide. The price is AUD $3490 per traveller. Departure options from the U.S. or Europe are available on request.
About Thirsty Swagman Pty Ltd:
Thirsty Swagman was launched in April 2007 to provide an alternative to the usual sight-seeing and experience tours. All trips by the company offer a purely pub- and bar-based itinerary, usually taking in the local nightlife and covering multiple countries.
For more information about Thirsty Swagman or the Asia Annihilator tour, please visit http://www.worldsbiggestpubcrawl.com/D18-asia.html or contact Kenneth Hart at +61 8 9257 3898.
Contact:
Kenneth Hart, Chief Swagman -Thirsty Swagman Pty Ltd
Phone: +61 8 9257 3898
Email: press@thirstyswagman.com
Web: http://www.thirstyswagman.com
Note: High-resolution artwork, photos and posters are available upon request.
###