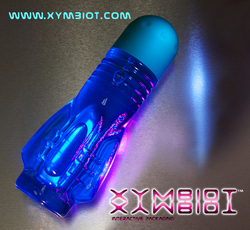 It will redefine the youth beverage market as we know it
Orem, UT (PRWEB) November 14, 2008
Xymbiot Interactive Packaging a division of ThinkAtomic Inc. has introduced to the beverage/packaging world, a patent pending plastic bottle that is designed to fly up to 100 feet when empty. This interactive packaging concept is aimed directly at youth markets and may prove to be irresistible to children, tweens and teens due to its ultra cool appearance and its dual role as a fun and functional aerodynamically designed throw toy. Something never before seen or attempted in this industry.
Xymbiot is launching several versions of the flying bottle concept in addition to incubating several other amazing packaging concepts. For more information, visit http://www.xymbiot.com . Xymbiot is currently looking for a beverage partner to launch the first beverage in a flying bottle. Because of the bottles high visibility, dual functionality and intrinsic value, projections for success in the market place with this new interactive packaging concept are very promising.
The new bottles were on display at this years InterBev show in Las Vegas and was received with much excitement and interest by the industry. " It will redefine the youth beverage market as we know it", stated Ralph Yarro CEO Xymbiot.
ABOUT XYMBIOT:
Xymbiot is an industrial design and packaging development firm dedicated to research, design, engineering, manufacturing and marketing new and exciting products and multi purpose interactive packaging. Xymbiot is a Utah based company.
###