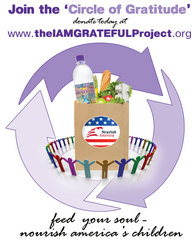 Whole Foods Market is excited to support this initiative and the newest addition to the AQUAMANTRA family of unique and life sustaining water.
Dana Point, CA (PRWEB) November 11, 2008
Nourish America, a non-profit organization and AQUAMANTRA®, the award-winning premium bottled water company based in Dana Point have aligned with Whole Foods Markets Pacific Southwest, Nevada and Arizona this holiday season and throughout the upcoming year to assist in bringing adequate food and nutrients to America's underprivileged children. The "I AM GRATEFUL PROJECT" has created a dedicated donation based website (http://www.theiamgratefulproject.org) designed to raise a minimum of $100,000 which will provide nourishment to one million children. This project is a grand experiment to move people into a space of gratitude, before, during and after they make donations in increments of $5 and $25 or more, guiding individuals to donate from a space of abundance for what they have, not the other way around.
"We at Nourish America are very grateful to be a partner in the "I AM GRATEFUL PROJECT" and for the opportunity to help poor and hungry children in our own country. There are over 500,000 children in the Los Angeles area alone that are in need of healthy nutrition. Malnourished children, in general, struggle to compete in school and on the playground. But with the addition of wholesome nutrition, many of these children begin to thrive and blossom, creating success where there was failure," said Mary Morton, Communications and Program Director of Nourish America. "The downturn in the economy has resulted in an alarming rise in the number of impoverished, undernourished families in the U.S. Through the "I AM GRATEFUL PROJECT" we will be able to give a nutritional hand up to these children at a time when they truly need our support," continued Morton.
To kick off the "I AM GRATEFUL PROJECT" in early November, Whole Foods Markets optioned the exclusive retail launch of Aquamantra's "I AM GRATEFUL" Premium Natural Spring Water with aisle-displays throughout all Whole Foods Markets in the Southern California, Nevada and Arizona in honor of Thanks-Giving. Marci Frumkin, Marketing Director, Whole Foods Markets, Southern Pacific Region said, "Whole Foods Market is excited to support this initiative and the newest addition to the AQUAMANTRA family of unique and life sustaining water."
Alexandra Teklak, the young founder and CEO of AQUAMANTRA and resident of Dana Point, CA, brings a unique energy and mission to her Orange County company and the "I AM GRATEFUL PROJECT." "We are genuinely honored as a company to extend our gratitude on a larger scale flowing through the creation of the "I AM GRATEFUL PROJECT" which is simply asking people to move into a space of gratitude while making a donation to Nourish America. The project is a gentle reminder to focus on what we are grateful for, like food, running water or the ability to drive a car, because there are a lot of people here in the U.S. that don't have those luxuries. This campaign was designed to encourage people to be thankful and to donate from a 'full cup' which ignites the highest frequencies of energy the universe has to offer which will in turn, support the receiver of the donation and the giver, in amazing ways," enthusiastically said Teklak. Like Barack Obama said in his President-Elect acceptance speech, "Change can't happen without you, without a new spirit of service, a new spirit of sacrifice. So let us summon a new spirit of patriotism, of responsibility, where each of us resolves to pitch in and work harder and look after not only ourselves but each other."
http://www.theIAMGRATEFULProject.org requests people to think of three things they are grateful for in their own life as they make the actual act of donation. After making their donation, they will be taken to a page that will give them optional gifts back; i.e. a free desktop image of AQUAMANTRA's beautiful 'I AM GRATEFUL' painted artwork, 10% off Jack Canfield's Gratitude Journal or a free download of LA's own singer/songwriter Gina Rene's new release of 'Recyclution' when they purchase the popular hit single 'Be the Change', including an intro by Rev. Michael Bernard Beckwith. We are all about giving back," said Teklak. The 'I AM GRATEFUL PROJECT' encourages the 'pay it forward' attitude, asking people to send the donation request to 5 people they are grateful for.
"Our consumer research tells us that people want to make a difference, especially after this landmark election. Our water and this project help to connect with the consumers' need for expression in this area and makes it a reality, leaving them truly satisfied at the deepest of levels. Three cents from every bottle purchased of 'I AM GRATEFUL' water in Whole Foods goes to Nourish America," continued Teklak.
The idea of the 'I AM GRATEFUL PROJECT' unlocks the fullness of our life and by sharing it with one another; can turn food into a feast, a house into a home and an outsider into a friend. "The launch of the 'I AM GRATEFUL PROJECT' coincides with Thanksgiving which is a holiday where gratitude is on consumers' minds. We hope to encourage everyone to continue celebrating the abundance of their life while helping children who will go hungry over the holidays without our help, especially during these tough financial times," says Jacqueline Rubasky, AQUAMANTRA's Strategic Brand Advisor.
To learn more and make a donation visit us at http://www.theiamgratefulproject.org.
ABOUT AQUAMANTRA:
AQUAMANTRA is the first natural spring water to offer consumers a premium hydrating beverage and an experience that enlivens, enriches and deepens the consumers' relationship with themselves and the world around them. "I AM GRATEFUL" joins the full line of premium waters from AQUAMANTRA including, "I AM HEALTHY, I AM LOVED and I AM LUCKY." AQUAMANTRA's rigorous testing practices and purification standards exceed those of most bottled and municipal waters, making it valuable for those who wish to maintain optimum health, specifically people who are challenged with immune difficulties. The source of AQUAMANTRA's exquisite taste is San Diego's Palomar Mountain, known for its abundant springs, rich silica levels and perfectly balanced pH of 7.4. This bottled water is both IBWA and NSF inspected, then tested daily, weekly and annually showing no evidence of arsenic, bacteria, lead or chemicals. Consistent out source testing of AQUAMANTRA also shows no leaching from their PET Level 1 food grade plastic bottles.
In 2007, the prestigious Berkeley Springs International Water Tasting competition awarded AQUAMANTRA with 'The Best Tasting Bottled Water Gold Medal' for it's delicious and clean tenor. AQUAMANTRA is available in Whole Foods, online at AQUAMANTRA.com and other fine purveyors of foods and optimum nutritional products. AQUAMANTRA invites you to visit us at http://www.aquamantra.com to learn more about our products, affirmations, quantum physics, our charities, the law of attraction and more.
###