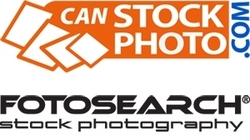 It's only been a few days and we've already had a tremendous amount of interest from photographers in adding new content to Can Stock Photo as a result of this relationship with Fotosearch
Halifax, Canada (PRWEB) November 12, 2008
As the result of an acquisition, microstock innovator Can Stock Photo Inc. is now an affiliate of stock photography pioneer Fotosearch. As part of the new relationship, Fotosearch will distribute Can Stock Photo imagery, allowing Can Stock Photo's contributors access to the robust worldwide distribution network Fotosearch has built over the past 10 years. Can Stock Photo contributors will be able to present their stock photos to millions of Fotosearch visitors every week.
Contributors to Can Stock Photo will further benefit by having their images marketed as prints and their best content licensed in a professional brand. "It's only been a few days and we've already had a tremendous amount of interest from photographers in adding new content to Can Stock Photo as a result of this relationship with Fotosearch," said Can Stock Photo's founder, Duncan Enman.
Can Stock Photo will continue to operate as a separate company, and its already easy-to-use upload process has been improved to accept vector files. Further enhancements to the site will be made in the near future, including the acceptance of footage content. As a result of the new owner's growth strategy, Can Stock Photo will be marketing its website more aggressively to attract even more stock photography buyers. Enman, who created Can Stock Photo while a university student in Nova Scotia, Canada, will remain involved with Can Stock Photo.
Terms of the transaction were not disclosed.
About Fotosearch®
Publitek, Inc., dba Fotosearch, is one of the largest stock image agencies in the world, representing more than 100 royalty free agencies and more than 4 million photos. Fotosearch's impressive client list includes international magazines, newspapers, and publishing companies, as well as thousands of major advertising firms in the U.S. and abroad. Visit Fotosearch Stock Photography at http://www.fotosearch.com to Find the Perfect Photo Fast™.
About Can Stock Photo Inc.
Can Stock Photo™ is a microstock agency founded by Duncan Enman in 2004. Can Stock Photo represents more than 800,000 stock images and has more than 30,000 members. Visit Can Stock Photo at http://www.canstockphoto.com.
###