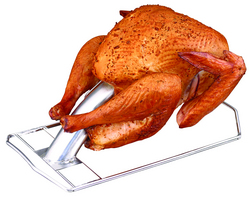 Logan, UT (PRWEB) November 16, 2008
Santé, a Utah-based manufacturer of innovative cooking equipment, introduced a new, redesigned version of its popular Infusion Roaster that is easier to clean and easier to store. The patented design of the Infusion Roaster makes for a more flavorful, moist turkey that cooks in less time than traditional methods. This new design still encompasses all of the great features that helped the Infusion Roaster win the "Best Barbecue Accessory" at the 2006 Hearth, Patio and Barbecue Association Expo.
Like beer can chicken, the Infusion Roaster is designed to hold a cooking liquid that infuses the poultry with moisture and flavor from the inside out. The Infusion Roaster allows chefs to slip a turkey or large chicken onto the tube which can be filled with your favorite broths or liquids and is the key to cooking a great bird. The Infusion Roaster is designed to be used as a roasting pan accessory in the oven, or on the barbeque grill.
Liquid placed inside the tube creates steam inside the turkey or chicken cavity, which helps cook the meat from the inside as well as the outside. Consequently, indoor chefs and cooks find the Infusion Roaster reduces time spent in the kitchen, which is especially helpful during the busy holiday season. For the Thanksgiving bird, cranberry juice or apple juice can be used to add that special holiday touch. After using it to roast a great turkey, the Infusion Roaster can be easily disassembled for quick cleaning and storage.
The manufacturer's suggested retail price for the Infusion Roaster is $24.99, and it can be purchased online or in select retail outlets throughout the United States.
About Santé
Established in 2005, Logan, Utah-based Santé is a privately held manufacturer of high-end cooking equipment for the ultimate home kitchen. Santé is devoted to bringing its customers innovative and cutting edge cooking tools ranging from the Infusion Roaster and The Skookie to quality cast iron Dutch ovens, pots, pans and skillets. Santé is a division of Logan Outdoor Products, a manufacturer of quality cookware since 1991. To see what's new at Santé please visit Santé Cookware Infusion Roaster or call 888.726.8348.
###