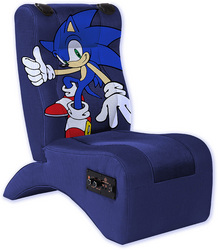 Sonic Unleashed reinvents the Sonic The Hedgehog™ dynasty to deliver innovative and unexpected game play, along with imaginative new storylines
Antioch, California (PRWEB) November 18, 2008
The Ultimate Game Chair, maker of all-in-one virtual game, massage and home theatre chairs, today unveiled the first-ever kids' video game chair - the Reactor Mini Game Chair. The new Reactor Mini Game Chair is a result of a licensing deal between SEGA® and Ultimate Game Chair and will feature SEGA's Sonic the Hedgehog - one of the best-known kids' franchises in the history of games. In addition, the Reactor Mini debut will coincide with the release of SEGA's hotly anticipated Sonic Unleashed.
The Reactor Mini represents Ultimate Game Chair's first-ever game chair designed for the 3-to-9 year old crowd. The Reactor Mini includes a larger-than-life, full-color image of SEGA's iconic blue mascot, Sonic the Hedgehog, which appears on the seat back and wraps around the chair for a three-dimensional effect.
"Sonic Unleashed reinvents the Sonic The Hedgehog™ dynasty to deliver innovative and unexpected game play, along with imaginative new storylines," said Rob Lightner, vice president of business development of SEGA of America. "The Reactor Mini is an ideal complement to the Sonic franchise and delivers the ultimate game experience to young players."
Weighing only 13 pounds and measuring 25 ¾ inches (H) by 14 ½ inches (W), the Reactor Mini is sized and stylized specifically for young gamers. With four high-impact vibrating motors and 3D-stereo sound, the Reactor Mini amplifies game play with any title on all gaming systems.
"Perched in the Reactor Mini, young gamers will embark on a high-speed adventure where movements, fighting and speed deliver a full-body sensory experience - all in the comfort of a chair that is sized perfectly to fit," said Jamie Duran, president of Ultimate Game Chair. "Drawing on SEGA's legacy of the best game play and most engaging storylines, we have built a chair that will unleash a child's inner hedgehog and redefine video game fun."
The Reactor Mini Game Chair will be available online at http://www.ultimategamechair.com beginning November 21. In a special U.S.-only promotion, those who purchase Sonic Unleashed on the Xbox 360® video game and entertainment system will receive a 10% discount on the Reactor Mini. The Reactor Mini is $69.99 (MSRP) or $62.99 (with coupon), plus shipping. Sonic Unleashed is rated E10+.
About Ultimate Game Chair
Ultimate Game Chair, Inc., headquartered in Antioch, California, designs all-in-one virtual game, massage and home theater chairs. Ultimate Game Chair amplifies the video gaming experience by delivering patented special effects and high-impact vibration capabilities that deliver the ultimate in game play intensity. For more information, visit http://www.UltimateGameChair.com.
##