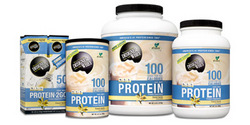 With Presence Marketing's key national and regional distribution partners, DESIGNER WHEY protein products will be available to millions of people who care about their daily nutritional well-being and healthy living
Carlsbad, CA (Vocus) November 18, 2008
DESIGNER WHEY® has entered into a brokerage agreement with Presence Marketing to assist in securing retail placement of America's #1 Selling Protein throughout the United States. Presence Marketing will provide DESIGNER WHEY with a full spectrum of services to build upon their national distribution channels and to support their retail partners.
This partnership will put DESIGNER WHEY's wide range of innovative products in front of Presence Marketing's extensive natural retailers' network. DESIGNER WHEY products will be on shelves of more than 1,000 outlets, such as Whole Foods Market, Sun Markets, Henry's Farmers Markets, and Vitamin Cottage nationally. Consumers will be delighted with great tasting protein in convenient travel size packets that are perfect for the "on-the-go" lifestyle.
DESIGNER WHEY's natural products include the delicious 100% Whey protein flavors French Vanilla, Double Chocolate, Natural, Wild Blueberry, Acai Berry, Green Apple as well as the entire line of Aria Women's Protein.
"With Presence Marketing's key national and regional distribution partners, DESIGNER WHEY protein products will be available to millions of people who care about their daily nutritional well-being and healthy living," said NEXT Proteins' CEO, David Jenkins. "Once again, DESIGNER WHEY is changing the way America looks at protein."
"Presence Marketing is proud to represent the amazing portfolio of healthy and great tasting DESIGNER WHEY products within the U.S. to our strategic natural foods channel business partners," added Bill Weiland, President and Chief Executive Officer for Presence Marketing. "DESIGNER WHEY offers cutting edge innovation, as well as superlative quality within their range of fine products and whey protein is an excellent addition to the dietary regime of athletes, as well as active professionals. DESIGNER WHEY products are the healthy, smart solution for all consumers' nutritional needs."
For more information on DESIGNER WHEY's complete line of products visit http://www.designerwhey.com. Also, learn quick and easy ways to incorporate protein into a current diet, create meal plans and get tasty recipes.
ABOUT PRESENCE MARKETING
Presence Marketing/Dynamic Presence was born from a desire to work in a dynamic and environmentally conscious industry. Because of our awareness of the necessity to take better care of the planet and oneself, it is our mission to join with, and support, through open and communicative partnership, those companies who share this goal.
ABOUT WHEY PROTEIN & DESIGNER WHEY
Whey protein has been called the ultimate functional food. The revolutionary benefit of DESIGNER WHEY products is the utilization of Whey, a protein-rich liquid component of milk produced as a by-product of the cheese-making process.
Since 1993, NEXT Proteins has pioneered the manufacture of a full line of branded consumer whey protein products. The industry's best selling protein, DESIGNER WHEY, powers the company's innovative, great tasting products such as Protein•2GO® and DESIGNER WHEY ProteinBLITZ(TM).
DEDICATED TO RESEARCH
DESIGNER WHEY has spent more than $10.3 million on research to match the perfect blend of nutritional whey protein with great taste.
DESIGNER WHEY protein products before and after workouts can help with better strength, better power, better muscle recovery, better health and performance.
Media members looking for additional information on DESIGNER WHEY's complete line of protein powders and drinks should visit DESIGNERWHEY.com. You may also learn innovative ways to incorporate protein into current diet plans, meals and discover tasty protein shake recipes.
*Based on AC Nielsen sales monitoring for 52 weeks ending August 9, 2008, DESIGNER WHEY brand is #1 in Unit Sales for high protein powder in US-FOOD for 164 weeks straight.
**The current recommended dietary guidelines and practices in the U.S. support the use of dietary protein at levels above 1.5 g/kg per day or .68g/lb body weight/day (A150 lb woman needs 102 grams of protein per day) during weight loss. - Layman, Donald K., Journal of the American College of Nutrition.
###