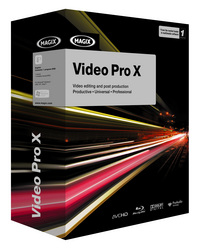 MAGIX responds with this professional package to requests, which are communicated to us by the consumers. We see the package as a continuation of our consumer video editing product. Therefore the ambitious users are our target group for Video Pro X. User, who once started out with MAGIX consumer products like Movie Edit Pro, or also multimedia agencies and smaller production companies
Toronto, Ontario (PRWEB) November 21, 2008
MAGIX, the market leader in video editing*, releases its Video Pro X, a program for professional video editing and post production. MAGIX is offering a special introductory price to the users of Magix. Users of other MAGIX software or other video editing software packages may buy MAGIX Video Pro X for a special introductory price of 199.99 (249.99 Regular Price) - This professional video editing software is available today online to download and purchase for 199.99
"MAGIX responds with this professional package to requests, which are communicated to us by the consumers. We see the package as a continuation of our consumer video editing product. Therefore the ambitious users are our target group for Video Pro X. User, who once started out with MAGIX consumer products like Movie Edit Pro, or also multimedia agencies and smaller production companies," says MAGIX Product Manager Video, Sven Kardelke.
This highly flexible software package has a great depth of function and features. Flexible workflow and interface design, all coupled with the ease of use and format variety typical of all MAGIX products. MAGIX Video Pro X imports video material from XDCAM camcorders and can natively edit AVCHD material or many other sources. The new user interface with source and program monitors as well as a project clipboard make efficient workflow and uniform effect control using keyframes or Bézier curves even easier. MAGIX brings its established strength in professional audio editing into the program for dubbing tasks, enabling sample-precise audio editing directly in the audio/video timeline.
Users can managed up to four simultaneous recordings of events like weddings, concerts or other live events can be synchronized in MultiCam mode. New features lets you automatically place video objects at the correct position on the timeline with the help of a detailed audio analysis. Videos can be burned to DVDs or Blu-ray discs in Full HD 1080p and Digital Quality Sound.
Overview of Key Features - Review the features of this professional video editing software in depth

Dolby Digital 5.1 Surround sound
Integrated DVD authoring module with up to 8 switchable audio tracks
Output on Blu-ray Discs with animated menus and 6 channel PCM surround sound
Open timeline: No more time-consuming conversion when importing different formats in SD and HD resolution directly into a project.
3D title effects with built-in MAGIX 3D Maker
MultiCam editing: Perfectly synchronize up to four camera recordings and edit them live
Sample-precise audio editing: Edit and move objects in the timeline with the precision of up to 1/48,000s.
Precise keyframe functions with Bézier curves
3-way color correction
Native editing of complete HDV recordings with realtime preview in unchanged original format without quality loss.
Supports XDCAM file import and editing of (for example, from Sony PMW-EX1)
Compatibility with all current video formats: SD and HD formats such as DV, HDV and AVHCD
Import and export of all important media formats, including QuickTime, Windows Media, AVI, MPEG 1, 2, 4 (AVC), JPEG, TIF, PSD, TGA.
External plug-in support, for example, VirtualDub, proDAD Adorage/Vitascene, VST
Flexible interface, flexible integration of source material, flexible export
The user interface contains a source and program monitor, which makes direct comparison between the original and edited video possible - a feature especially attuned to professional needs. The project clipboard creates a helpful overview of the all files and effects in use in the project. All parts of the user interface can be made bigger, smaller, moved around or hidden altogether. These custom settings can be saved for later use. All shortcuts are freely definable, especially useful for those switching from other programs and allows the professional user to customize their interface. The timeline can also be adjusted to the user's preferences.
The program is robust and allows you to drag any objects including video, sound, text or image into up to 99 individual tracks. Files from other programs can be imported directlyThe same goes for AVCHD files and a wide variety of formats such as:

QuickTime
Windows Media
AVI
MPEG 1,2,4
JPEG
TIFF
PSD
TGA
Additional applications can be embedded using interfaces to Virtual Dub, DirectX and VST, as well as proDAD effects. External hardware such as, for example, MIDI devices, can be integrated as masters or slaves. Flexibility is also the theme of the export functions, in addition to the mentioned authoring and burning options, high-quality export in MPEG 4/H.264/3GP with AMR and AAC audio formats is also possible. Batch processing is especially useful in this regard: One video file can be turned into several different video formats or different videos with the same format.
Exact control for professional results:
In professional video editing, precision has a higher priority than in home videos. Thanks to the flexible interface, all relevant preview and editing windows can be made just the right size. Colors can also be altered with a high degree of exactness. The 3-way color correction functions analogously to other effects controls and can be easily changed on the time line using keyframes or Bézier curves. Titles can also be edited directly as a track in the timeline, and additional parameters exist in addition to the classic options. Three-dimensional text animations can be created with the help of 3D Maker. Even pros sometimes get shaky shots. An efficient algorithm for image stabilization steadies it with counter movement. Precision is also key for audio. MAGIX delivers a Live Audio mixer, with an included complete effect rack for individual tracks and a mastering rack for the overall sound - naturally, everything is also available in Dolby Digital 5.1.
*"Most successful" video software refers to the amount of retail software products sold in stores according to monthly measurement by Media Control Germany (Basis: media control panel Germany) (PC/CD-ROM non-games D according to the criteria of VUD), GfK charts Holland, Belgium, France, Italy, Spain, Chart Track UK, NPD data charts PC/CD-ROM non-games US. Period: January to October 2008.
Press Material:
Packshot:
http://content.magix.net/press/USA/2008/videoprox/package.zip
Screenshots:
http://content.magix.net/press/USA/2008/videoprox/screens.zip
More Product Information:
http://content.magix.net/press/USA/2008/videoprox/product_info.zip
About MAGIX:
MAGIX AG, Berlin, is an internationally operating provider of software, online services and digital content for using multimedia products and services in personal communication. Furthermore, MAGIX also offers tailor-made multimedia packages as one-stop solutions to business partners such as online portals and hardware manufacturers. Since 1993 MAGIX has developed state-of-the-art technology for designing, editing and archiving digital photos, videos and music. In 2006, based on sales of products through retail distribution of photo, video and music software, MAGIX held a leading market position in Germany and various other European countries, and was one of the three leading market players in the USA.
###