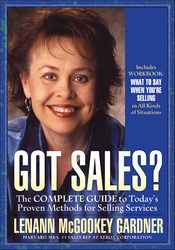 There should always be a return on any marketing investment you make, including holiday greeting cards
Albuquerque, NM (Vocus) November 25, 2008
Think sending business holiday greeting cards is a chore? It's actually a great way to reconnect with past clients, make another connection with prospects, and help build sales after New Year's Day, according to Lenann McGookey Gardner, author of Got Sales? The Complete Guide to Today's Proven Methods for Selling Services.
"There should always be a return on any marketing investment you make, including holiday greeting cards," says Gardner. "Realize that cards are another opportunity to remind someone that you and your business are here to help. The importance of touching base to stay top-of-mind cannot be minimized."
Recognizing that not everyone celebrates Christmas, choose cards that have non-religious holiday themes, such as winter scenes, wildlife, Peace on Earth, or New Year's wishes. "While it's okay to use printed labels, avoid a printed signature inside the card without any handwriting at all, which smacks of production line card-sending," says Gardner.
Gardner, an international sales and marketing consultant who works with companies and individuals who need to sell more of what they have to offer, suggests these tips for holiday communications that will help reap rewards in 2009.
Personalize every card:
With dozens of pre-printed cards arriving in mailboxes daily, handwritten notes are still noticed. "All it takes is handwriting the person's name, one or two sentences and your first name to make a difference between a mass-produced card that does nothing for your business and the opportunity to connect," says Gardner. "For example: 'Hi Fred: Thinking of you! I have some ideas that can help your sales in the New Year – let's talk soon… Best wishes for 2009! Lenann'." Gardner uses this handwritten approach with a preprinted company name inside the care, preprinted return addresses on the envelopes, and printed address labels.
Say thank you:
"During this season when we count our blessings, holiday cards are an opportune time to say thank you, I appreciate having had the opportunity to work with you," says Gardner. "You can then go on to share exciting developments that could be of benefit to them."
Use emails as well:
While a paper card is the gold standard for reaching out to "touch" someone, email is greener and may directly reach senior executives who have their snail mail opened by assistants. "Because so much of marketing now is just reminding folks that we're here and that we help people like them in the ways we do, email is better than no card at all," explains Gardner. "The key to email is the RE: line, which determines whether a communication is even opened!" Gardner suggests the RE: line always contain the person's name and something compelling, like RE: Fred, thanks and a thought for 2009!
Call with care:
If calling to express holiday wishes and connect with a past client, get to the point quickly. "When you call, let them know you are thinking about them, that you're wishing them well in this busy season, and that you'd like to send them an article they'll find of interest, if they have a moment. If they've got the time and inclination to chat, you can engage them further on the phone. Otherwise, let them get on to whatever they're in the middle of," says Gardner.
If calling, be prepared to leave a pleasant voice message that always ends with the person's name, rather than "Goodbye." Gardner explains, "For example, you could say 'Hi, Joanna, it's Lenann Gardner. Just wanted to touch base and wish you the best for the holidays and the New Year. I'll email you a link to an article I just saw that you might find of interest as you grow Acme Associates in 2009. No need to return the call unless you want to catch up – I'm at 505.828.1788, again 505.828.seventeen eighty-eight. All the best, Joanna!'"
Lenann McGookey Gardner, a Harvard MBA and a past #1 worldwide sales rep at Xerox, offers keynote speeches on state-of-the-art selling and closing skills, executive and sales coaching for business success, and workshops. Her book Got Sales? The Complete Guide to Today's Proven Methods for Selling Services is the one guidebook highlighting all the latest research and data on what's working now in contemporary selling. More information is available at YouCanSell.com.
###