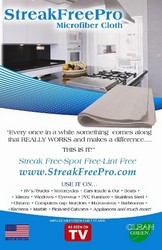 More than 95% of these have NOT BEEN TESTED for toxicity, mutation and carcinogenic effects. In fact, the majority of today's chemicals have never been tested for long-term effects.
Greenfield, TN (PRWEB) November 24, 2008
The Louisville Kentucky area has caught "STREAK FREE" fever. Ever since Brenda Woods, a local Louisville woman, went on vacation and returned with a Streak Free Pro microfiber cloth, parts of Indiana, Kentucky and Illinois have never been the same.
All it took was one newspaper article in the Louisville Courier Journal submitted by Brenda and now irritating streaks are disappearing rapidly across the region.
As Brenda excitedly stated in her article, "My first project was the bathroom mirror spanning a full wall. I have spent untold hours cleaning, wiping, sweating, wiping again only to back up and still see streaks. I have used every product offered in stores and resorted to household hints like washing with vinegar and water and wiping it dry with wadded‐up newspaper. All that did was make the room smell like pickles and leave my hands black."
"This was just too simple. I wet it. I wrung it. I wiped. Then, stood back and "oohed, aahed."
A clean mirror! It had NO streaks. I went into a glass cleaning frenzy. Mirrors, pictures, glass cabinet doors, TV screens, computer monitor. I was in love!"
Would you believe you can clean any surface streak free without cleaning chemicals? It really is as simple as that. All that is needed is a streak free pro microfiber cloth and water. Wet it, wring it and wipe it and you're done!
Along with making your life streak free, this microfiber cloth is easy to clean. Just throw the dirty cloth in the washer with regular detergent and let air dry.
Not only are they a must have for your home, but they make wonderful gifts. This gift will have the recipient thinking of you every time they use it. It's nice to be thought of in a positive way. Each Streak Free Pro microfiber cloth includes a full color four page brochure that explains how the cloth works.
How would you like to clean chemical free? It's a way to clean "Green". No more chemicals!
Houses today are so energy efficient that out-gassing chemicals have nowhere to go, therefore the toxins build up in the house.
"Since the early 50's we have been producing about 1000 chemicals per year. That is over 56,000 synthetic chemicals that have been produced", said Fournier, owner of StreakFreePro.com. He went on to say, "More than 95% of these have NOT BEEN TESTED for toxicity, mutation and carcinogenic effects. In fact, the majority of today's chemicals have never been tested for long-term effects."
This is one of the most important factors for using the Streak Free Pro cleaning cloth according to Mr. Fournier, the owner of the company.
The average home contains 62 toxic chemicals. In fact, a recent EPA survey revealed that the air indoors was 2 to 5 times more polluted than outdoor air. We breathe in 10,000 to 20,000 liters of air per day. 90% of that is indoor air for most people. The full health effect of all these chemicals may never be known. The main source of these chemicals is thought to be from household cleaning supplies and products. Household cleaners have become the number one cause of poisoning accidents in children.
In order to purchase Made in the USA Streak Free Pro microfiber cloths with FREE shipping visit:
http://www.StreakFreePro.com
About the company:
As a former product designer, Streak Free Pro owner, Glenn Fournier, recognized a product that worked and made a difference in these micro-fiber cleaning cloths. Mr. Fournier founded Streak Free Pro in January of 2004 and has experienced a steady growth since then, tripling his sales in the last year alone.
You can contact Mr. Fournier between the hours of 8am and 3pm Eastern time for interviews with the media and can be reached by phone or by email.
Contact:
Glenn Fournier, Owner
731-235-0204
###