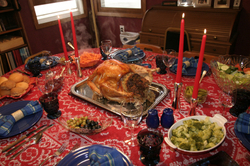 Most viruses, such as the flu and rhinovirus, are spread from person to person, so do your part to stop the spreading
Nottingham, UK (PRWEB) November 25, 2008
Millions of people will crisscross the country to make it home for the Thanksgiving holiday, but that also means coming into contact with a host of germs from sick and sniffling people that can be shared with your family, as well. In a new survey from Sambucol® Black Elderberry immune-boosting dietary supplement, 10% of US adults say they get sick during the holidays*.
Claire Wheeler, M.D., instructor at Portland State University's School of Community Health who practices integrative and traditional medicine, says that many people don't take the proper precautions during the holidays.
Dr. Wheeler offers these simple tips adults can take to help avoid getting sick this holiday season:

Wash hands frequently. When in doubt, wash again, since viruses of all kinds, including the rhinovirus, can be spread with hand contact. It might be helpful to carry hand sanitizers that kill both bacteria and viruses, especially if you don't have time or a place to wash hands regularly. And, be mindful to avoid touching your eyes, face and mouth, where soft tissues readily accept invading viruses.
Make sure those around you are covering their mouth. "Most viruses, such as the flu and rhinovirus, are spread from person to person, so do your part to stop the spreading," says Dr. Wheeler. Make sure that when others cough and sneeze they are covering their mouth with a tissue, or have them use the old elbow trick where you cough or sneeze into your elbow to avoid coughing the germs right onto your hands.
Supplement your diet. Dr. Wheeler says that despite our best efforts at maintaining a balanced diet, it's safe to assume that we all can use a little help with extra antioxidants. Antioxidants are thought to be necessary to support your immune system to fight viruses, and black elderberries are unusually rich in antioxidants. She suggests taking Sambucol black elderberry supplement to help boost your immune system. "Black elderberry has twice the amount of antioxidants as blueberries and cranberries, and the black elderberry extract in Sambucol, specifically, has been clinically shown to help support immune system function," she adds. She recommends this regimen all year long, not just during flu season. "And if you do end up getting the flu, published clinical studies show that flu patients given Sambucol recovered twice as fast -- up to four days more quickly - with reduced severity of symptoms," she adds. "Quick recovery is key since this allows for less time for secondary infections, such as pneumonia, to take hold."
For more tips on what you can do to avoid the flu this holiday season, or to learn more about Sambucol® Black Elderberry immune-boosting dietary supplement visit the Sambucol web site at http://www.sambucol.com
Note to Media: For more information or to set up an interview with Dr. Wheeler, contact Rachahd Tosado at Robin Leedy & Associates, (914) 241-008, ext. 15.
Visit the Sambucol online newsroom at http://www.corporatenews.net/cgi-bin/pc200v3.php?pccl=24859
Survey Methodology
Harris Interactive® fielded the study on behalf of Sambucol from October 8-10, 2008 via its QuickQuerySM online omnibus service, interviewing a nationwide sample of 2,212 U.S. adults aged 18 years and older. Data were weighted using propensity score weighting to be representative of the total U.S. adult population on the basis of region, age within gender, education, household income, race/ethnicity, and propensity to be online. No estimates of theoretical sampling error can be calculated; a full methodology is available.
###