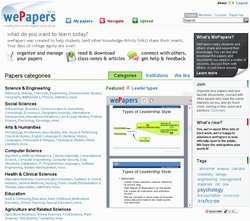 Our top mission is to help students share their knowledge, learn from others and ace the agonizing world of academic studies. We want to allow knowledge to run freely in the world -- and provide resources for those who can't afford going to college
Jerusalem, Israel (PRWEB) November 26, 2008
wePapers.com, A new Israeli startup launched this week, offers academic material from the world's leading universities, and a knowledge-sharing platform for students and lecturers -- for free.
wePapers is a new free online service created by two Israeli students, launched this week after 18 months in development. wePapers helps students and anyone seeking academic knowledge come together to share and upload academic material, discuss what they study and mainly - find tons of quality academic documents (from lecture notes and exam to peer-reviewed articles).
wePapers is a web application that operates like an online study group, and serves students and professors alike (as-well everyone else who hungers for knowledge). Users can discuss different topics and help each-other.
Users can also download and view thousands of academic documents from world leading universities such as MIT, Hebrew University and UCLA, varying from lecture notes to peer-reviewed articles.
Similarly to the way YouTube allows users to view movies right inside their browser -- wePapers lets its users read documents and presentation right within their browsers (with the option to download them to their own computers, too).
wePapers filters out content to provide only quality academic material. It also provides many tools designed especially for students and lecturers: the ability to filter content by institution, language, subject, etc. to help users get the specific information they're seeking much faster.
wePapers has just launched its public beta, after a long testing period (the private beta users have been students and researchers from UCLA and Hebrew University).
"Our top mission is to help students share their knowledge, learn from others and ace the agonizing world of academic studies. We want to allow knowledge to run freely in the world -- and provide resources for those who can't afford going to college," says co-founders Hanan Weiskopf (25) and Ehud Zamir (26).
"We are both BA students ourselves. In fact, this is how the whole idea got started -- from our own experiences in college."
In 2007 Weiskopf and Zamir were joined by Dr. Richard Jaffe, an associate professor at Columbia University, to develop the website so that it would fit the needs of students and professors alike.
"We're trying to create an environment where students can study in groups online, but also to allow them to learn from material from other institutions around the world. We hope we can make a difference in the way the world acquires knowledge."
wePapers was funded by the founders and by several angel investors.
###