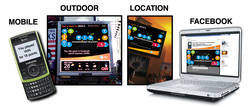 We are enabling massive audiences online and off to engage with media in a manner familiar to web audiences
Cambridge, MA (Vocus) November 26, 2008
LocaModa Inc., a technology company connecting brands to audiences through location-centric media, today launched the world's first interactive word game that connects online audiences in social utilities such as Facebook to audiences in New York's Times Square and 1,200 social locations ranging from bars, cafes and restaurants.
Jumbli™ is a multiplayer text messaging word game. Players who submit the highest scoring words from their mobile phones or online see their names and word scores on all the location screens and on sites like Facebook simultaneously. For example, the same Jumbli plays displayed on Clear Channel's Jumbotron in Times Square are also displayed in Facebook and all restaurant and bar locations.
Jumbli's release marks the first time Times Square and thousands of locations have been connected to a Facebook application; It is also the first time a text messaging game has connected online and offline players in real-time.
Over one million people every day are able to see and interact with Jumbli via their mobile phones at locations across the U.S. and join communities of players participating online in Facebook.
"We are enabling massive audiences online and off to engage with media in a manner familiar to web audiences," said Stephen Randall, CEO of LocaModa. "Users want to control the media around them. It's even more compelling when the user experience in social locations is connected to social networks online. It was inevitable that the power of the web would reach beyond the PC and the immediacy of the mobile phone would extend beyond the two-inch screen."
In addition to Clear Channel's giant screen in Times Square, participating LocaModa affiliate networks include Danoo, Ecast, Barcast and Zoom.
Harry Coghlan, President, Clear Channel Spectacolor, said "LocaModa has proven that their interactive applications attract top advertisers looking for scalable, measurable and engaging experience, and we're really excited to be part of such an innovative application. The opportunity to connect our screen to the web is unique and enables us to augment our daily audience in Times Square with massive communities online."
Mike Yang, CFO of Danoo, commented, "LocaModa enables media on our network to be interactive which adds tremendous value and makes the user experience so much more engaging. We love the fact that we're part of a larger interactive web experience, connected to audiences on-line and off."
About LocaModa
LocaModa connects people and places online and off, bringing out-of-home locations to the web and web experiences to locations such as bars, cafes, colleges, public spaces and conferences. LocaModa Inc. is a privately held company, incorporated in Delaware, headquartered in Massachusetts and founded by Stephen Randall, a former EVP/Founder of Symbian. True to its global vision, LocaModa is internationally backed by Dace Ventures in USA, Mahindra Group in India and Sumitomo Corporation of Japan, via its US-based strategic investing arm, PresidioSTX. Additional information can be found at http://www.locamoda.com.
About Danoo
Danoo is a leading digital out-of-home network that delivers relevant, localized digital media as part of people's daily rituals. Danoo's Web-connected, interactive screens captivate people in a handpicked network of their favorite break places (coffeehouses, upscale delis and cafes) in more than 1000 locations in the top media markets. When people are watching a Danoo screen, national and local advertisers on the network have a uniquely efficient opportunity to reach the affluent, active and hard-to-reach "Coffeehouse Generation" in an environment uncluttered by other media.
Danoo was founded in 2006 with the vision of helping people better connect with the world around them by revolutionizing the way people experience media out-of-home. Danoo is backed by Kleiner Perkins Caufield & Byers, a leading venture capital firm and led by a management team of industry veterans from a variety of successful media, technology, and consumer goods companies. For more information, please visit http://www.danoo.com.
###