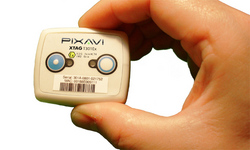 We are very excited to introduce this technology to hazardous area applications. WLAN location tracking technology provides close to instant return on investment both from a safety and from an efficiency perspective
Stavanger, Norway (PRWEB) December 4, 2008
Pixavi today announced its new intrinsically safe, wireless, real time location system (RTLS), enabling organizations to precisely track location of both equipment and personnel. The RFID tag is certified for both Mining, Chemical plants and Oil&Gas according to IECex and ATEX and covering Zone 0, Zone 1 and Zone 2.
"We are very excited to introduce this technology to hazardous area applications. WLAN location tracking technology provides close to instant return on investment both from a safety and from an efficiency perspective," stated Pixavi Sales Director, Thomas Zaubi.
Using the award winning RTLS technology from Ekahau, Inc. the Xtag can operate on any existing standard Wi-Fi network, which eliminates the need to install dedicated infrastructure that otherwise would increase the equipment and installation cost considerably.
"By introducing this innovative client application to our diverse explosion proof wireless network product range, we are able to offer our customers a full range of Wi-Fi products, including access points, antennas, VoiP, wireless video communication, wireless surveillance cameras and location tracking devices," Zaubi continues.
Pixavi CEO, Christian Rokseth, added, "Wireless networks are already widely available in hazardous areas, which mean an instant access to this technology for many organizations. Today's worldwide financial situation puts a high demand on efficient and automated operation. Combining the Xtag location system with our Xpoint explosion proof and intrinsically safe access points, with the Xbeam EX explosion proof antennas, enables us to provide customer a full turn-key system. With this complete offering, our customers can now deploy a cost efficient, secure and solid RFID RTLS system for hazardous area Zone 0, zone 1 and zone 2."
Mr. Rokseth continues, "This new RTLS solution perfectly complements our state of the art wireless suite for hazardous area, like Pixavi's own intrinsically safe 802.11n wireless video communication technology, explosion proof wireless network producs, Wireless CCTV products and also third party wireless VoIP, PDAs, Rugged laptops and wireless Sensor Technology in order to increase efficiency and safety on these installations."
Pricing & Availability:
The Xtag is already available for ordering, with a pricing starting from 153 USD per tag. The Xtag is compatible with Ekahau RTLS software which is sold separately.
Technical details:
For more details, visit the Pixavi RTLS tracking system section of our website.
EX certification codes:
Oil & Gas / Chemical industries code: EX II 1 G Ex ia IIC T4
Mining Code: EX I M1 / Ex ia I
Certificate download
About Pixavi:
Pixavi is a privately owned company offering innovative and industrial grade wireless communication products, including wearable and mobile High Definition video products, wireless network products (802.11n, 802.11g WiFi and WIMAX), WLAN antenna products, location tracking and wireless video surveillance technology. The company's award-winning solutions also come in intrinsically safe, EX approved and explosion proof versions according to ATEX and IECex and are used by the world's leading enterprises in a multitude of industries. With a broad suite of open, standards-based products, Pixavi has a high focus on technology innovation. Pixavi is currently recruiting and are also looking for potential investors in order to accelerate growth.
Contact us for for more information:
Thomas Zaubi
Sales Director
"+47 90943156"
sales(a)pixavi dot com
http://www.pixavi.com
Legal Notice:
This news release contains forward-looking statements that involve risks, uncertainties and assumptions. If such risks or uncertainties materialize or such assumptions prove incorrect, the results of Pixavi and its consolidated subsidiaries could differ materially from those expressed or implied by such forward-looking statements and assumptions.
# # #