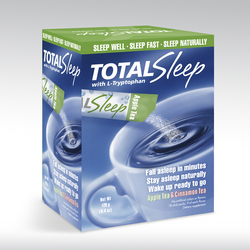 What is the sleep process?
Escondido, CA (PRWEB) December 1, 2008
San Diego-based FluidEssentials™, Inc. is using science to change how consumers view nutritional supplements with the launch of its new website: fluidessentials.com. The website provides a 360-degree view of FluidEssentials, their products and the science behind how their products solve health problems.
Visitors will find answers to questions like:

"Why do people have trouble sleeping?"
"What is the sleep process?"
"What starts the natural sleep cycle?"
"How does inflammation begin in the body?"
"What is a free radical?"
For those who are sleepless, stressed or tense, they'll discover how more than three decades of research shows that the L-Tryptophan in TotalSleep™ can help provide restful, restorative sleep. For those with back aches, joint cartilage breakdown or a lack of flexibility or mobility, they'll find out how the superoxide dismutase, Omega-3 and Glucosamine in FlexEssentials™ quench free radicals and provide relief in hours.
In addition, the FluidEssentials website provides authentic and trustworthy reviews from actual customers. For example, Laurie Platt shares her experience: "This stuff really works! For the first time in a longtime I got some sleep. Ever since I have been taking it from day one, it has worked so well for me! This is the first product I can truly back 110%. Thank you."
The website isn't just about the products and the science behind them. Visitors also get a real sense of who FluidEssentials is and how they care about making products that work for their customers. "We're a dedicated team passionate about our products and the people who use them. We care if people are in discomfort; if they're sleepless or fatigued. We care to make our products work - and we know they do," explains Matthew Titlow, COO of FluidEssentials.
About FluidEssentials, Inc.:
FluidEssentials™ formulates and markets natural, great-tasting and easy-to-use nutritional supplements to promote a more healthy, active and vibrant lifestyle. Products include: TotalSleep™, the first and only nutritional supplement drink mix to naturally boost serotonin levels for less stress and better sleep; and FlexEssentials™, the first nutritional supplement drink mix to boost your body's antioxidants for rapid recovery and relief for muscles, bones and joints. The water-soluble product line is available online at fluidessentials.com and drugstore.com or by phone at 866.62.FLUID.
*These statements have not been evaluated by the Food and Drug Administration. These products are not intended to diagnose, treat, cure or prevent any disease.
###