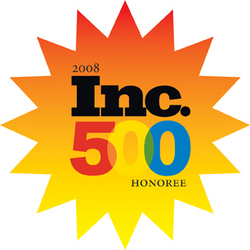 As Innovative Foods/Good Wives continues to grow, we'd like to thank all of our loyal customers for bringing us this far
Wilmington, MA (PRWEB) December 2, 2008
Innovative Foods/Good Wives Hors D'oeuvres, Inc. has been named to the Inc. 500 list* of the fastest growing privately held businesses in the U.S. This is Innovative Foods/Good Wives first inclusion since its creation in 2006. For over 25 years, Inc. Magazine has created the list annually, and has included companies such as Microsoft, Oracle, and Timberland. A Boston area based company, Innovative Foods/Good Wives ranked at number 63 on the list, with a three-year consecutive growth of 2626.8%. The only Food & Beverage company in Massachusetts to make the Inc. 500 list, Innovative Foods - Good Wives is also ranked as the 3rd fastest growing privately held company in Massachusetts.
"As Innovative Foods/Good Wives continues to grow, we'd like to thank all of our loyal customers for bringing us this far," said Chris Collias, CEO. "Your recognition of the quality that comes from fresh ingredients, uncompromising production guidelines, and attention to detail has helped us achieve this milestone."
Originally created to fill a gap in available foodservice product lines, specifically labor-intensive items such as stuffed chicken breasts, Innovative Foods began in 2003 with a humble 4 person staff and a 700 square foot USDA kitchen. Within 3 years, Innovative Foods acquired the Good Wives brand of hors d'oeuvres and plated appetizers, expanding the already extensive line to include items like Spanakopita, New England Lobster Pot Pie, and Mushroom Profiteroles.
This year alone, Innovative Foods/Good Wives introduced over 30 new items in foodservice and retail packaging. Highlights include:

The Miniature Beef Wellington, winner of the 2008 sofi™ Outstanding Perishable Foodservice Product Award.
The Turkish Jasmine Rice Fillo Flower
The Blue Cheese and Brandied Orange Fillo Star
The 3 oz Spinach and Mushroom with Boursin Profiterole
Winning the 2008 sofi™ Outstanding Frozen Savory Product for our Mushroom Profiterole.
"This award goes to show that people understand the value that quality adds to what they eat," said Marketing Manager, Mike Jewell. "The taste of Good Wives' hors d'oeuvres is leaps ahead of our competition, and this award is representative that our growing customer base agrees."
The Good Wives brand offers over 100 different food service packaged items and nearly 70 items for retail sale. A large variety of Good Wives products are made with all natural fillo dough and an even larger selection is trans-fat free.
Since its creation, Innovative Foods/Good Wives' mission has been to reduce labor costs of demanding chefs and busy caterers nation wide. Today, Innovative Foods/Good Wives enjoy placement in many of the finest hotels, restaurant and caterer menus, and retail stores nationwide. To learn more about us or our products, visit http://www.goodwives.com or contact a member of our friendly customer service team at (800) 521 - 8160. For more information about the Inc. 500, please visit http://www.inc.com/inc5000.
###