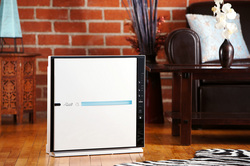 Los Angeles, CA (PRWEB) December 7, 2008
As the winter months approach, the weather cools and people start spending more time indoors - sealing their homes to keep out the cold. While we strive to keep warm and save energy, circulation decreases and the air inside homes often gets stale. It is important to filter contaminants out of the air to reduce common germs and bacteria when colds and the flu are at a peak. Rabbit Air has developed an air filtration system that ensures the indoor environment is safe for your family.
The best way to improve indoor air quality is to update the filtration system in your house. This can be achieved by incorporating an air purification system or adding an advanced HEPA filter to your home's furnace. An air purifier increases circulation in the home and filters out the harmful germs and bacteria prevalent in homes during the winter months. In addition to eliminating sources of the common cold and flu virus, air purifiers also trap pet dander, dust mites, pollen and allergens while eliminating smoke and odors from cooking and common household chemicals which can also aggravate the lungs and make the indoor air quality worse.
Rabbit Air, a state-of-the-art HEPA air purifier, is one of the most advanced technologies on the market and provides the most reliable protection during the cold and flu season. Rabbit Air is the only air purifier that features a new generation, bio-engineered HEPA filter that not only traps but destroys allergens down to 0.3 microns in size. A Ginkgo Biloba based anti-bacterial coating on the HEPA filter kills germs, viruses and bacteria circulating in the air, and an activated carbon charcoal filter absorbs chemical fumes, odors and smoke from cigarettes and cooking.
Rabbit Air provides solutions for families concerned about their health and quality of life. A Los Angeles based company that plays a revolutionary role in the air purification industry, Rabbit Air manufactures environmentally friendly products with design in mind. Dedicated to designing state-of-the-art products that are highly effective, energy efficient and affordable, Rabbit Air purifiers are all based on HEPA filtration technology and do not produce ozone.
###