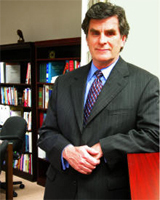 Simply the best presentation I've ever seen on bullying
Las Vegas, NV (PRWEB) December 2, 2008
Dr. Edward F. Dragan, nationally-known authority on many education issues, including school accident prevention, spoke to overflow crowds at the second annual National Student Safety and Security Conference about his revolutionary approach to combat bullying, preventing school accidents and other safety topics.
Dragan stole the spotlight, bringing Patric Kohlmann who vividly described his own bullying experience at a Long Island middle school. Dragan offered ideas drawn from his forthcoming book, No More Tears: Danger-Proofing Your Child.
During a series of presentations based on his 40-year-career in education, Dragan discussed a host of vital student welfare issues, such as preventing injuries on class trips, bullying, minimizing school accidents, how to prevent students from becoming victims or perpetrators of sexual harassment, and how to recognize "red flags" indicating unsafe practices.
Dragan is a familiar face on television, bringing his provocative brand of educational expertise to Court TV, Montel Williams and The Fox Morning Show with Mike and Juliet. His firm, Education Management Consulting, based in Lambertville, New Jersey, consults on school accident prevention, liability matters, bullying, special education and related issues with lawyers, administrators and parents. Dr. Dragan has appeared as an expert witness in lawsuits around the country.
Dr. Dragan said he has too often seen educators who don't plan adequately. "When that happens, children get hurt - sometimes killed," says Dragan.
Dragan asserted that many tragedies are preventable and said that in-school bullying can be leveraged by savvy administrators into a moment of learning for both victims and perpetrators.
"Simply the best presentation I've ever seen on bullying," said one administrator, a sentiment echoed by other conference attendees.
About:
Edward F. Dragan, Ed.D. is the founder of Education Management Consulting, LLC, providing consultation and expert witness services on school-related issues including school management, preventing school accidents, bullying and harassment, liability for student injury, standard of care, and risk assessments. His book, No More Tears: Danger-Proofing Your Child, is due in the summer of 2009.
Contact Information:
Edward F. Dragan, Ed.D.
Education Management Consulting, LLC
609.397.8989
edragan@edmgt.com
http://www.edmgt.com
###