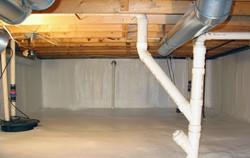 It's a lot easier and less expensive fixing them before than after
Torrance, CA (PRWEB) December 2, 2008
Emecole, Inc. of Romeoville, IL has just developed a basement prefinishing model that offers contractors a new business opportunity. Using this model a contractor can perform basement waterproofing and completely prepare the basement for finishing at a later date.
With the housing market in a slump, more and more homeowners are investing in their existing homes. Emecole says one of the best, long-term investments for a house is basement waterproofing for added usable space and possible finishing. But if a homeowner balks at expensive basement remodeling, the company is offering something simpler that still creates more living space. Emecole claims it is wiser and healthier to first minimize humidity, prevent deadly gases like radon from entering a home, eradicate mold and, finally, stop damaging water leaks before they happen.
Fortunately, basement waterproofing and prefinishing can be done on a budget while also making the downstairs living space attractive and safe for children as well as adults. Emecole says a contractor who treats a customer right the first time can likely expect a call later when money is available to fully refurbish the basement. The contractor helped the homeowner to avert disaster, says Roy Spencer, owner of Perma-seal Basement Systems in Downers Grove, IL, who uses Emecole products to repair and to finish basements. "It's a lot easier and less expensive fixing them before than after," says Spencer.
For a safe, healthy and dry basement, Spencer said proper preparation begins with a backup sump-pump system, because the number one reason for flooding is failure of the primary pump. Although all new homes have sump pumps, guess how many are likely to fail? "All of them, during storms and power outages. If the pump fails, you can get many inches of water in your basement very quickly and ruin everything."
Emecole says that contractors need to know that pumps often fail because some builders install a lesser quality primary pump to keep costs down. These pumps have lower pumping capacities and/or may not meet the heavy duty specifications required for a sump system, a detail often overlooked by homebuyers. If a home still has the original primary sump pump, it is probably wise to replace it with a heavy-duty AC primary pump. And then, to be safe, add the battery-operated backup system.
The next step is sealing cracks in block or poured concrete walls and floors. Although poured concrete is less porous than brick and block walls, Spencer says it comes with two guarantees: it will harden and it will crack. "It's eight inches of solid concrete, but it will crack and water will find these areas and leak into the basement."
Patching cracks is not a solution; it's a temporary fix that will come back to haunt homeowners and contractors. Instead, Spencer seals the cracks and pipe penetration with an epoxy paste. He then injects a special liquid epoxy or urethane into the cracks and voids to create a permanent repair. He says Emecole has perfected these durable products and dispensing tools over 20 years and they come with excellent warranties. And the firm teaches proper installation, so contractors new to this type of work can quickly become experts.
Another health hazard found in basements is mold. Data provided by the U.S. Environmental Protection Agency proves that mold will grow only where humidity and moisture are present - i.e., basements that have not been safely prepped. Placing a carpet on a concrete floor that has not been sealed is an invitation to mold growth. Avoiding mold in walls is equally important and can be achieved by using the proper insulation. Spencer says waterproof insulating blankets are the ultimate vapor barrier that outlasts and out performs traditional insulation.
Basement waterproofing and keeping water out is not the only reason for prepping a basement. The basement is the source of 50 percent of the air that circulates in the living area. Preventing deadly gases like radon from rising through concrete is a must as the quality of the air in the basement and the living area are subject to contamination from the earth below (whether the basement is an unsealed porous concrete floor or dirt in crawl spaces). Emecole recommends using a deep penetrating concrete sealer to prevent vapor molecules (humidity) and radon gas from passing through the porous concrete and into the home.
For more information, contact Lou Cole at Emecole, Inc., by writing to 50 E. Montrose Dr., P.O. Box 7486, Romeoville, IL 60446; phone, 800-844-2713 or fax, 815-372-3893, E-mail lcole at emecole dot com or visit the web site: http://www.emecole.com.
# # #