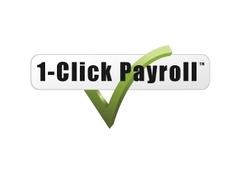 To our mind, small business owners should never have to worry about payroll - it should happen with minimal effort.
Glenview, IL (PRWEB) December 2, 2008
Today online payroll provider SurePayroll introduced its new 1-Click™ Payroll Technology, a process that reduces time spent on small business payroll processing from minutes to seconds.
In 2000, SurePayroll became the first company to introduce a Software as a Service (SaaS) payroll offering. They continue to be the leading innovator in online payroll processing, frequently adding new, customer-requested features.
1-Click™ Payroll Technology raises the bar for payroll processing:
With the new 1-Click™ Payroll Technology, small business employers can process payroll with a single mouse click.
Prior to the introduction of 1-Click™ Payroll Technology, SurePayroll's small business customers were able to process payroll in three simple steps. After logging into their account, a customer entered their payroll data, previewed it and then approved payroll. These three steps generally took fewer than two minutes to complete, the fastest payroll processing time in the industry for a solution that automatically files and deposits all payroll taxes.
Small business owners who opt for 1-Click™ Payroll Technology can now process payroll in seconds.
"We're continually working on developing ways to make payroll as simple as possible for our customers," says SurePayroll Director of Product Management Steve Kania. "To our mind, small business owners should never have to worry about payroll - it should happen with minimal effort."
How SurePayroll's online payroll processing works:
As a result of SurePayroll's pioneering work in SaaS payroll, the days of calling in payroll at a set time or faxing in payroll to a payroll outsourcing company are long gone.
A SurePayroll customer has online access to their payroll service 24 hours a day, every day. They can run their payroll or access payroll reports whenever and where ever they find it most convenient, even on Web-connected mobile devices such as the Apple iPhone or iPod touch.
SurePayroll takes on all of the responsibilities for a small business owner's payroll. While taking on a customer's tax liability, SurePayroll files and deposits their federal, state and local payroll taxes for them. To help keep customers in compliance with the law and avoid paying fines, SurePayroll also automatically reports new hires to state agencies and provides access to updated, customized labor law posters for display in a customer's workplace.
Their employee self-service feature ensures that small business owners who use SurePayroll don't need to worry about requests from employees for prior paycheck stubs. Employees can access their payroll stubs and payroll history 24/7 via a secure Web site.
As optional add-on services, SurePayroll has introduced comprehensive, affordable 401(k), healthcare and Workers' Compensation services tailored to the unique needs of small business owners.
About SurePayroll:
Voted Editor's Choice for best payroll service by PC Magazine, a Top 100 Product by Accounting Today and finalist in the Best Customer Care and Best Product categories of the 2008 American Business Awards, SurePayroll is America's largest full-service online payroll service and honoree of the of the Inc. 500 Fastest Growing Businesses award two years in a row.
SurePayroll is passionate about small businesses and their payroll. The company is dedicated to providing an extremely friendly and simple payroll experience - at a price small business owners can afford.
In addition to its payroll and ClickFREETM tax file and pay service - which allows a user to complete the entire payroll process in minutes - SurePayroll offers a suite of online services designed specifically for small business, including HR and compliance resources, 401(k) retirement solutions, health insurance and workers' compensation products.
SurePayroll also offers a private-label and co-branded payroll service to accountants and banking partners to offer payroll processing to their small business clients.
###