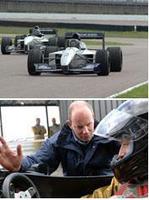 People are more conscious of what they're spending and, with sites like Kelkoo and Pricerunner, the web allows them to make useful cost comparisons when they're looking for a bargain
Wigan, UK (PRWEB) December 1, 2008
Among all the talk of doom and gloom, recession and economic regression there is still a success story out there. E-commerce is booming in times when national retail giants, like Woolworths and MFI are failing to hit the mark and tumbling into administration.
Although a study by the Office of National Statistics showed that online growth in more than half of the business sectors surveyed, including consumer goods and travel services, stayed flat or declined over the past two years, on-line sales for businesses that earn a reputation for reliable service throughout the transaction process or who offer a niche product are expected to remain strong enough to ride out the downturn and the figures seem to back this up.
High Street favourite Marks & Spencer revealed that, while overall sales had fallen 6.1% during the second quarter of 2008, its online sales had shot up 34%.
Having a strong brand proposition or a niche offering seems to be the way to flourish online.
That's the opinion of many people involved in e-commerce, Including Elaine Ferneley, Professor of Technological Innovation at the Salford Business School who said there were a number of reasons why online shopping was proving so popular.
"People are more conscious of what they're spending and, with sites like Kelkoo and Pricerunner, the web allows them to make useful cost comparisons when they're looking for a bargain," she said.
But online shopping is not just about shopping on price.
One niche business that has seen a recent boost in on-line sales is The Racing School.
Since Lewis Hamilton became the F1 Champion, sales of their Formula 1 experience gift vouchers have shown an impressive increase. They give you an opportunity to drive a formula 1 racing car at an approved racing circuit.
While you may think a high ticket item like this would be the first to suffer in an economic downturn, you would be wrong.
"High profile events like Lewis Hamilton's win have proven to be a big boost for our business," says Peter Barnes of the Racing School. "Its not just our Formula 1 experience that is seeing an increase in sales, all of our offering from go-carting to our 4x4 off road experience have strong sales"
There are many businesses out there that are still doing very well, they are the ones with a strong trusted brand or a niche offering or both.
###