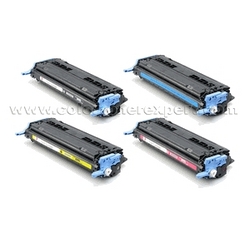 Rowland Heights, CA (PRWEB) December 4, 2008
Everybody loves a price reduction. Anything that costs less but is of quality material, a consumer would love to purchase. Discounts and promotions are magic words to a consumer's ear. With the current financial problems the nation is facing, it always helps to save more on supplies.
This is where ColorTonerExpert.com comes in. With a standard bargain price lower than most companies, laser toner cartridges are sold at as much as 75% less compared to the original and branded manufacturers. Consumers don't always have to suffer and worry that lower priced laser toner cartridges equates to poor quality. At ColorTonerExpert.com, remanufactured laser toner cartridges adhere to the strictest quality of standards. Moreover, should buyers be unsatisfied of their purchases, they can always return the product and opt for a brand new laser toner cartridge. This 100% Satisfaction Guarantee ensures customers that they are buying remanufactured but quality premium laser toner cartridges.
To continually keep its customers happy, one of the leading producers of compatible laser toner cartridges offers a discount on its quality premium remanufactured toners. Purchase $75 or more and avail of a 10% less on your laser toner cartridges. Not only that, ColorTonerExpert.com also offers a flat rate shipping of $10. To top it all off, purchase laser toner cartridges that amount to over $150 and receive a free $15 Best Buy Gift Card to help you save on future purchases.
Sign up and join the company's mailing list to get updates on promotions and discounts on remanufactured laser toner cartridges that are truly irresistible. Take advantage of the discounted laser toner products and be sure to save more so you can purchase more.
About ColorTonerExpert.com
ColorTonerExpert.com is an online reseller of high quality remanufactured laser toner cartridges at bargain prices. The company offers a wide array of laser toner cartridges, OEMs and remanufactured, for numerous printer models such as HP, Brother, Canon, Dell, Xerox, and much more. Inkjet cartridges and inkjet photo papers are also being sold.
###