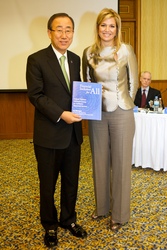 'Financial Inclusion for All' is a call to action that we must all embrace.
Doha, Qatar (PRWEB) December 1, 2008
The impact of the current global financial crisis on the world's poorest populations and their ability to access a broad range of financial services--secure savings, health or crop insurance, remittances and affordable credit--was highlighted at the International Conference on Financing for Development in Doha, Qatar today. The UN Advisors Group on Inclusive Financial Sectors (UNAG)--a group of 25 high-level experts assembled by the United Nations to advise the organization and its member states on issues related to microfinance--presented Secretary-General Ban Ki-moon with concrete recommendations on how to expand financial services to the world's 2.1 billion "unbanked."
Removing systemic barriers that exclude low-income consumers from the world's financial systems is seen as a fundamental step in the process of eradicating poverty, building wealth at the national level, and mobilizing domestic resources for development. These issues are central to discussion at the Doha Conference convened to review the progress on the implementation of the Monterrey Consensus.
"My fellow Advisors and I are firmly convinced that inclusive finance is the fundamental platform from which individuals and nations can achieve equitable prosperity," said HRH Princess Máxima of the Netherlands, UN Advisor and Chair of the Advisor's Group Advocacy Committee. "'Financial Inclusion for All' is a call to action that we must all embrace."
The UNAG's recommendations focus on the role of governments, regulators, the private sector and development partners in promoting and advancing inclusive financial services and integrating efforts and resources across industry sectors for development and poverty reduction. Approximately two billion people still lack access to even the most basic financial services, such as a secure bank account, simple life insurance or safe ways to transfer money.
"Access to a diverse range of financial products and services can directly provide individuals and families with the tools to generate income, build capital, and properly manage unexpected risks, all of which provide them with the wherewithal to pave their own way out of poverty," said H.E. Mr. Marc Bichler, Ambassador and Director of Development Cooperation, Luxembourg and Chair of the UNAG.
UN Advisor and Managing Director of Micro-Credit Ratings International Limited (M-CRIL), Sanjay Sinha, situated inclusive finance within the global economic context. "The current economic crisis renders financial inclusion more important than ever before," said Sinha. "The "unbanked" are not subprime. In fact, low-income households make good, reliable banking clients if banks approach them with appropriate products and practices. And their inclusion will reap real economic dividends for communities and countries alike."
The UNAG's recommendations note the importance of cross-sector coordination in creating successful inclusive financial systems and extending access and the opportunity it provides to the world's poorest populations.
Secretary-General Ban Ki-moon stated, "I am grateful to the UN Advisors for leading the way. Your key messages to governments, regulators, development partners and the private sector provide a tangible framework for action.
I am sure that many organizations and institutions would get involved if only they knew how. These messages provide a clear direction."
The UNAG key messages also note:
Governments should promote access for all citizens to a broad range of financial products and services, embrace new technologies and delivery channels, create helpful policy environments, reject interest rate ceilings that limit credit expansion, and promote consumer protection, transparent prices, financial education and an open, competitive market.
Regulators should establish conditions that allow a diverse range of institutions to provide financial services, enable appropriate supervision for financial services providers and their supporting industries, and mitigate risk and balance concerns of safety without limiting access.
Development partners should build human and institutional capacity to meet funding needs, support the range of financial institutions that are apart from inclusive financial sectors, and monitor the financial and social performance of development-partner investment portfolios.
The private sector plays an important role in expanding access and should realize the market opportunities, engage at the executive level, and forge partnerships with both the financial sector and businesses that support the financial services industry.
The full text of the UNAG key messages, as well as additional resources and information about the UNAG and inclusive finance are available at http://www.UNadvisorsgroup.org.
Following a panel discussion on "Mobilizing Domestic Financial Resources for Development: The Role of Microfinance," organized in partnership with the United Nations Capital Development Fund (UNCDF), several of the 25 advisors presented the Secretary-General with the group's final statement in a brief ceremony that marked the conclusion of the group's two year mandate. Panel participants included: H.E. Mr. Bichler; H.E. Mr. Bo Jerlström, Ambassador, Sweden and UN Advisor; Dr. Jeanette Thomas, Communications Director, CGAP; Dr. James Mwangi, President and CEO, Equity Bank (Kenya) and UN Advisor; and Mr. Sinha. The panel was moderated by Mr. David Morrison, Executive Secretary, United Nations Capital Development Fund (UNCDF).
About the UN Advisors Group
The UN Advisors Group on Inclusive Financial Sectors was established in 2006 and consists of 25 individuals representing Governments, central banks, regulatory agencies, microfinance institutions and other financial services providers, private sector financial institutions, civil society, development agencies, and academia from all over the world. Its main role is to advise the United Nations system and member states on global issues relating to inclusive finance. The objective of the Advisors Group is to increase sustainable access of poor and low-income households and micro- and small entrepreneurs to a broad range of financial products and services through the development of inclusive financial sectors around the world. The Advisors Group worked with Governments, regulatory and supervisory bodies, central banks, academia and the private sector to identify and define the key issues constraining access to financial services and advised the United Nations on strategies and concrete steps that can be taken to remove these constraints. A full list of the Advisors and the Advisors Group key messages can be found at: http://www.UNadvisorsgroup.org. UNAG's Secretariat was hosted by UNCDF, who also hosted the 2005 Year of Microcredit.
About UNCDF
Established by the UN General Assembly in 1966, The United Nations Capital Development Fund (UNCDF) offers a unique combination of investment capital, capacity building and technical advisory services to promote (i) Decentralization and Local Development and (ii) Inclusive Financial Sectors in the Least Developed Countries (LDCs). Through its programmes, UNCDF strives to contribute to the attainment of the Millennium Development Goals (MDGs) and to the implementation of the Brussels Programme of Action for LDCs in a direct, concrete and measurable way. UNCDF's investment capital is flexible, high-risk and innovative. It is channeled primarily to poor rural areas in the LDCs where poverty reduction, capacity and governance challenges are typically the greatest. UNCDF currently invests in 39 LDCs with a total programme portfolio amounting to approximately US$200 million and strives to support 45 LDCs by the end of the 2008-2011 period. UNCDF's interventions in the LDCs strive to be risk-taking, innovative, scalable and results-based. UNCDF is part of the UNDP-Group and actively promotes UN reform through joint programmes with UNDP and other UN agencies. More information on UNCDF can be found at http://www.uncdf.org
# # #