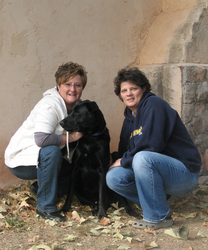 We believe most pet owners really want to be more involved in managing their pet's health
Austin, Texas (PRWEB) December 1, 2008
PetzMD.com, an innovative online pet health care website, was unveiled today by Austin pet owners Tina Cannon and Christi Scovel. PetzMD.com features an A to Z reference library for illnesses, ailments and diseases along with their exclusive Z Symptom Checker™, a simple and easy-to-navigate database designed to provide quick answers for pet owners worried about their pet's health and/or behavior. Z-Symptom Checker™ offers better access to pet owners by providing and maintaining one of the most comprehensive libraries of pet health information currently available in one online site. "We believe most pet owners really want to be more involved in managing their pet's health," says Vice President and co-founder, Christi Scovel, "but until recently, there wasn't that "one place" to look for information. It was a hit and miss proposition."
Another exclusive PetzMD.com feature is MyPetzMD ™, a social networking feature where pet owners can set up a "MySpace" type profile for their pets complete with photo albums, health care calendars, forums and blogs. Says Tina Cannon, President and CEO, "when we ran our test site a few months ago, we were honestly surprised at how many site visitors wanted to use that feature. It told us what we already knew; that our pets are a part of the family and we enjoy sharing information about them with other like-minded people."
Along with these exclusive offerings, PetzMD.com also provides consumers access to pet health news articles and decision-support services that help them make better-informed decisions about treatment options, pet health risks and pet healthcare providers. The current Find-A-Vet feature will be expanded in early 2009 to include a search for local pet specialists, boarding and grooming services and no-kill shelters.
Scovel, a fifteen year veterinary professional, and Cannon, an internal business consultant came up with the idea for PetzMD.com when they realized their friends and family were always calling with pet questions they couldn't find suitable answers to on the internet.
"It was always about a combination of symptoms that usually surfaced on the weekends when their vet wasn't available," says Scovel. "It helped them to know what the problem might be so they could decide whether or not to seek emergency care or just wait until their vet's office was open."
Cannon, a research specialist, went online to see what was available and what she found was outdated information or articles that were targeted at veterinarian professionals. They knew there had to be a better way; so together they set out to develop a website that would change the face of online pet health information . . . and in the process, make more responsible and proactive pet owners.
The two presented their idea to fellow business associate and local entrepreneur, Marcos Canchola, who readily joined the team as a partner. What started out to be a basic pet health care website quickly grew into much more after the partners asked local pet owners for input about what they wanted to see on the site. Find-a-Vet, My PetzMD and Z-Symptom Checker were all components pet owners asked for, along with a library of information written in easy to understand language.
"We are designing this site to fit the needs of every pet owner," Cannon says. "It's about providing tools to make us all more informed and better pet owners."
PetzMD.com is headquartered in Austin, Texas, with writers and editors in several states. For more information about PetzMD.com, call 512-292-9888 or visit http://www.PetzMD.com.
###