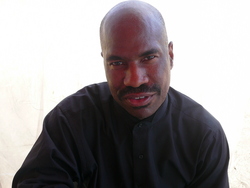 Sit down and read the latest news about the stock market and that shameful '101K,' then check the local radio listings for Roy's Koncert Konnection to hear Doc Willliams talk about her refreshing perspective on faith....then try to keep yourself from jumping up and shouting something to the effect of, 'God got my back!'
Orange County, CA (PRWEB) December 1, 2008
An announcer for a syndicated radio report says everybody that watches the stock market should listen to his program.
Roy Gray, a popular radio personality whose "come here" catch phrase has long been a part of his on-air delivery, says the success of the stock market is in the hands of God, to whom all of the interviews he will feature on radio stations like Mississippi's 96.7 FM WSEL give praise. Gray, who returns to the air in January, has no doubts about his assertions.
"Just one inspiring word from guests like The Starlights, The Williams Brothers, The Mighty Clouds of Joy and more is enough to convince anybody that as soon as a stable stock market becomes God's will, it shall be done!" exclaims Gray.
Gray continues to promote the value of "the wonderful women of the world" on and off the air and says the world may never know any figure as resilient as author Dr. Denise Surratt-Williams.
"Doc Williams, as I call her her, is a lot like Maura Gale, Telma Hopkins, Thelma Douglas, Tia and Tamara Mowry and other fine examples of muliebrity that I've interviewed on radio and TV--she has an undeniably deep-seated love for the power of God. And I'm anticipating the powerful impact that I know Doc Williams will have on the Koncert Konnection fans whose lives are being pulled by the strings of yo-yo bank accounts."
Gray, who will be adding a 2-hour version of Konnection in time for Q1 '09 Arbitron ratings, is challenging all lovers of inspiration.
"Sit down and read the latest news about the stock market and that shameful '101K,' then check the local radio listings for Roy's Koncert Konnection to hear Doc Willliams talk about her refreshing perspective on faith....then try to keep yourself from jumping up and shouting something to the effect of, 'God got my back!'"
Gray says "my new buddy Doc Williams is making a world of difference" and wants everybody to hear this sought-after speaker.
"...We find ourselves in the position of wanting--physically, emotionally, spiritually--to overthrow anything that will subdue or defeat us, " Surratt-Williams told Gray in a telephone interview, adding, "So, to the glory of God we have a great capacity to be mantled in the things that God has for us...."
###