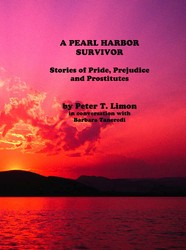 A Pearl Harbor Survivor - Stories of Pride, Prejudice and Prostitutes
San Diego, CA (PRWEB) December 5, 2008
In honor of Pearl Harbor Day, Peter T. Limon, an 85 year old Pearl Harbor Survivor, reveals his personal experiences at Pearl Harbor in his new book, "A Pearl Harbor Survivor - Stories of Pride, Prejudice and Prostitutes," available at amazon.com. A candid account of survival on the day the Japanese attacked Pearl Harbor, Limon tells stories not told in history books.
Limon is one of the few Pearl Harbor survivors still living today to recount the history-making day of Sunday December 7, 1941 when the Japanese Navy attacked the United States in Pearl Harbor, Hawaii, ultimately leading to the United States' involvement in World War II. Limon tells honest and vivid stories of guilt and heartbreak, tears and humiliation that will leave the reader with a more vivid account of that day than ever told before.
An excerpt from Limon's book describes the moments following the attack:
"THE NIGHT I HEARD SAILORS CRY The night after the attack, I went up to the gun deck. It was very dark, because it was nighttime, but also because of dark smoke still emitting from the burning battleships. It was raining and the young men standing gun watch were all under their ponchos their rain gear. Some were smoking, but no one dared let the light of their cigarette show for fear of getting fired upon. Most were sitting, huddled in groups ready to man the guns. As I walked by, I heard what I thought was crying, the kind of crying that comes deep from the soul, the heart. I paused to make sure
what it was that I was hearing. Yes, it was crying coming from under those ponchos. It was so involuntary, so uncontrollable. Yes, our sailors were crying unashamedly. It was contagious."
A CD by Peter Limon titled "We Will Carry On" is available now on CDBaby.com. Limon is donating a percentage of the proceeds from the sale of the CD and book to Fisher House (http://www.fisherhouse.org/), an organization that helps the families visit the hospitals of wounded vets from Iraq and Afghanistan.
For information about the book and author and how to order a copy visit: http://www.amazon.com/PEARL-HARBOR-SURVIVOR-Prejudice-Prostitutes/dp/1440449651/ref=sr_1_1?ie=UTF8&s=books&qid=1228112251&sr=8-1
One of the few remaining Pearl Harbor survivors and a fascinating story teller, Peter Limon is available for interviews to share his experiences.
Contact:
Peter T. Limon
(949) 488-7666
freewebs.com/pearlharborsurvivorstories
###