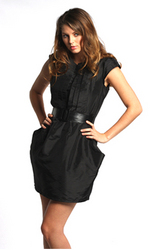 Manchester, UK (PRWEB) December 2, 2008
Boohoo 'must-have' dress on iTV's This Morning show sparks buying frenzy for online retailer.
A LITTLE black dress from online fashion store boohoo.com set viewers' pulses racing after appearing on ITV1's This Morning on Tuesday the 18th November.
The Kaori taffeta dress, priced at just £25, was showcased on the show as part of a feature on the best Little Black Dresses. And the dresses had to be under £50.
Thousands of viewers flocked to boohoo.com to snap it up and within minutes it was sold out. As Ferne Britton and Philip Schofield looked on, This Morning's super stylist Helen Boyle raved about the boohoo.com dress - calling it 'fashion forward' and 'something like we see on the catwalk'. Helen described Boohoo.com as, 'doing for the Internet what Primark did for the Highstreet'.
Boohoo.com have said that the dress will be back in mid December. The company said that anybody who wants the dress should register on their website as boohoo.com registrants will be notified about the dresses arrival first.
Every now and again there comes along a must have fashion item that women go crazy for and this year it appears to be the striking Kaori dress from boohoo.com . With it's capped sleeves, belted waist and accentuated shape at the hips, this little number has proved to be a Christmas cracker.
A spokesperson for boohoo.com said: "This dress has caused a real frenzy. Everyone wants one after it was featured on This Morning. It's a real Christmas sizzler. It looks great and the price is a real bargain - a perfect party showstopper.
Boohoo.com is fast becoming the No 1 destination for those seeking fashion heaven at incredible prices. In fact the online store has seen an 80% sales growth in the past year - They have launched a new look website to move the company closer to becoming women's ultimate online fashion shopping experience.
http://www.boohoo.com will have a collection of red-hot trends showcased on models - giving their customers a great opportunity to see the garments in their true glory. They can see how this season's 'must-haves' will fit, hang and adorn their own gorgeous selves!
boohoo, whose clothes are often seen gracing the pages of magazines and worn by celebrities including the girl band The Saturdays, has invested in bringing fashion to life in a bigger and better way.
As many of the top High Street retailers report falling profits and struggle to keep hold of customers, boohoo is booming. They've seen sales shoot up by over 80% in the last year and the website generates more than 12million page impressions a month.
http://www.boohoo.comis fast becoming the No1 online store for women who want all the latest catwalk style trends and celebrity looks at credit crunch busting prices. boohoo is doing for the web what Primark did for the High Street.
Fashion lovers can easily get their style icon's look for a real bargain Everyone's look from X
Factor judge and Girls Aloud star Cheryl Cole to Lilly Allen is achievable with
http://www.boohoo.com.
The boohoo collection consists of a sumptuous array of jewel coloured party dresses, knock'em dead little black dresses, skyscraper heels, winter coats, knee high boots, skirts, jeans, wetlook leggings, knitwear, handbags and jewellery.
Visit http://www.boohoo.com today to view the collection.
Media Enquiries
For more information, samples or images please contact Anne O'Neill, Love Lily PR on 01942 321868.
###