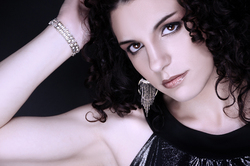 These animals are not damaged goods
Takoma Park, MD (PRWEB) December 1, 2008
IIn a slumping economy where big time CEOs are asking for bailouts, ordinary people are trying to hold on to their homes, their jobs, and whatever they have left in their 401Ks, one DC woman is letting her money go to the dogs...literally.
There are hundreds of homeless pets living at the Washington Animal Rescue League (WARL). "These animals are not damaged goods," says Allison Schwartz, WARL's volunteer manager. "These animals have no where else to turn but with more money, we can do even more for the animals." Local artist Mo Condo wants to honor these animals in a benefit concert Fur Love with proceeds to help her furry friends at the Washington Animal Rescue League.
After winning $10,000 in a music competition, Mo wants to give to those who stood by her, licked her nose, and put their paws in her hands -- the animals she cared for as a veterinary technician while she struggled to get her career off the ground. Mo's CD Release Party, Fur Love, will feature her new EP "Us." It's a pop-for-grown-ups composition of slick production, lively hooks and taut lyrics. Mo's silky voice and well-honed songwriting read like an older, wiser Michelle Branch. After years of enduring personal demons of stage fright and alcoholism, career setbacks, and scam artists, Mo realizes it's the intangible result of winning that competition that matters the most.
She recalls, "Winning this contest was the first time someone professional, who didn't just want to use me for their own ends, said to me 'You can do this. You should be doing this' It was the reaffirmation I needed to get up and try again."
You can hear songs like "Dream," "Special," "Shy," and "Us" Wednesday, December 3rd at 8 PM at the famed State Theater, 220 N. Washington St., Falls Church, VA. Tickets are $25 on sale now at The State Theater Box Office. Call 703-237-0300 or visit http://www.thestatetheater.com for more information. "Us," the new album by Mo Condo, now available on Rhapsody and iTunes.
###