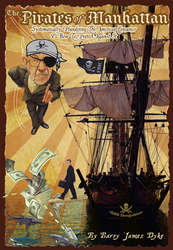 Hampton, NH (PRWEB) December 2, 2008
Barry J. Dyke, author of The Pirates of Manhattan found that the majority of employee assets in the huge $4.5 billion Federal Reserve System 401(k) dodged most of the stock market meltdown by having a majority of its assets invested in stable-value life insurance products.
According to a third quarter 2008 Federal Reserve report and a Deloitte audit, which covers 22,000 employees at the Fed, more than $3.15 billion or 69.7% of the $4.5 billion 401(k) Thrift Plan for the Employees of the Federal Reserve System is invested in its Fixed Income Fund. This fund is exclusively invested in stable-value group annuity contracts from major U.S. life insurance companies—not volatile mutual funds.
Unlike mutual funds, which do not guarantee safety of principal, stable-value products guarantee safety of principal and competitive annual earnings. Fed employees have embraced stable-value life insurance products over volatile equities. According to a Deloitte audit, in 2006 Fed employees placed 64% of their money into the Fixed Income Fund and in 2005 67.9%.
A nationally known critic of the mutual fund industry, deregulated banks and the speculation mania ignited by Wall Street—Dyke predicted a market collapse in May 2007 when The Pirates of Manhattan was released http://www.ThePiratesofManhattan.com. Using government research, the author documents that the mutual fund business was full of poor performance, excessive trading, over speculation, misinformation ,corruption, greed and little oversight—all key ingredients to a speculation bubble.
Stock mutual funds, the primary investments of the nation's 401(k)s, have seen their returns decimated during the past eighteen months. According to Lipper, Inc. with the Dow Jones Industrial Average down 9.1% in November, average total returns on stock mutual funds, U.S. and international are down 50% in 2008. The mutual fund industry lost more that 20% of their assets in the past five months, falling to $9.5 trillion assets under management from a high of $12 trillion in May 2008.
However, with 69.7% of its 401(k) assets in stable-value insurance products, Federal Reserve employees have for the most part dodged the market meltdown which side swiped most Americans. The stable-value Fixed Income Fund gives a 5.8% 2008 return. Their Government Securities Fund has returned 3.5% year to date. Other Fed investments performed dismally. Their Equity Fund is down -18.8%, Equity Index -18.4%, International Equity –28.8% and Small Company Equity -11.9%.
The Fed's use of stable-value insurance products for it's 401(k), even though it has proven to be a successful strategy, flies in total opposition to the mutual fund industry long standing efforts to exclude insurance products from 401(k) plans.
The powerful mutual fund trade group—the Investment Company Institute (ICI)—lobbied intensely to exclude stable-value insurance products in 401(k) plans as a default investment. As a result, on July 11, 2007, the Department of Labor submitted to the Office of Management and Budget proposals to exclude conservative stable-value insurance products. The mutual fund industry was successful. Target date or life-cycle mutual funds were given the green light as the 401(k) default investment option—excluding stable value.
The rationale behind target date funds is that they are a one size fits all investment for 401(k) participants' projected retirement date. Yet these funds are highly complex, been criticized for having excessive fees, can hold just about anything for investments and have not lived up to the promises of the mutual fund industry. Target date fund investment returns have been hammered in 2008. The average target date fund lost -10% in the third quarter. This is worse than the S&P 500 Stock Index loss of -8.4%.
The Federal Reserve does not mention the viability of life insurance products or annuities in its communications to the public. The Fed's showcase pamphlet, Building Wealth: A Beginner's Guide to Securing Your Financial Future only mentions annuities in the glossary.
BARRY JAMES DYKE, author, is the president of Castle Asset Management, LLC of Hampton, New Hampshire. For more twenty-five years, he has practiced financial planning, founded a pension consulting business, a third-party administration firm, a health & welfare consultancy and a registered investment advisor http://www.castleassetmgmt.com. He has worked with individuals, privately held companies, publicly traded companies, venture capital firms and national celebrities.
His book, The Pirates of Manhattan—which illuminates corruption within the financial service industry, has sold thousands of copies in all 50 states, Europe, England, Asia, Australia and Canada. To order, go to http://www.ThePiratesofManhattan.com.
For additional review information, including press review copies, you may contact the author directly at barry@thepiratesofmanhattan.com , telephone 800-335-5013, Castle Asset Management, LLC, 2 King's Highway, P.O.B. 95, Hampton, NH 03843-0095
###