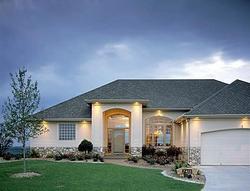 in 2005, concrete homes accounted for nearly 18% of all new single-family detached homes, up from 16.3% in 2004.
Yucaipa, CA (PRWEB) December 3, 2008
Popping up throughout North America, builders and homeowners alike are taking notice of concrete homes and their ability to fit in as a mainstream building option. ConcreteNetwork.com has taken this emerging trend and dedicated a new section detailing everything there is to know, including the cost of building a concrete home, design options, concrete home benefits and more.
Energy cost savings, the homes' ability to provide healthier living environments and their unyielding ability to withstand natural disasters are some of the major forces driving homeowner interest in concrete homes.
Concrete homes on average require about 44% less energy to heat and 32% less energy to cool than a comparable wood-frame house. And since walls contain no organic material, they won't support the growth of mold, mildew and other potentially harmful microorganisms that can cause allergies and other health problems. Lastly, tests have shown that walls can withstand flying debris from tornadoes and hurricanes with wind speeds of up to 250 mph.
According to the National Association of Home Builders and the Portland Cement Association, "in 2005, concrete homes accounted for nearly 18% of all new single-family detached homes, up from 16.3% in 2004."
From the outside, a concrete home looks like any other home, however, the benefits of an energy efficient home come from within the structure itself. Three types of insulated concrete forms (ICFs) can be used to build a concrete home, they include: block systems, panel systems and plank systems.
No matter which system is used, because of concrete's strength and moldability, custom forms can create any size or style of home imaginable permitting for traditional home styles, like Victorian or Craftsman styles to customizable architectural effects.
Read more about concrete.
Established in 1999, The Concrete Network's purpose is to educate consumers, builders, and contractors on popular decorative techniques and applications. These include stamped concrete, stained concrete floors, concrete countertops, polished concrete, and much more. Over 10 million people visit ConcreteNetwork.com per year to research, get ideas and to find a contractor.
The site excels at connecting buyers with local contractors in their area through its Find a Concrete Contractor service. The service provides visitors with a list of decorative concrete contractors throughout the U.S. and Canada, and is fully searchable by more than 20 types of decorative concrete work in over 200 regional areas throughout North America.
Photos courtesy of Reward Wall Systems.
###