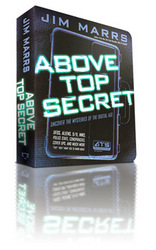 what we've been told
New York, NY (PRWEB) December 3, 2008
Is the Federal Reserve a Scam?
Is Free/Alternative Energy Being Kept from the Public?
These Hot-Button Conspiracy Theories--and Much More--Are Revealed in the New Book from New York Times Bestselling author, Jim Marrs.
For the first time ever, the user-generated web and publishing world come together! New York Times best-selling author Jim Marrs, considered the world's most accomplished conspiracy author, spotlights and analyzes nineteen of the hottest, newsworthy topics culled from the world's leading conspiracy web site, AboveTopSecret.com (ATS), in his new book, Above Top Secret: Uncover the Mysteries of the Digital Age (The Disinformation Company: Dec., 2008; ISBN: 978-1-934708-09-5; $19.95, Original Trade Paperback). To create this extraordinary eye-opener, Marrs filtered through thousands of topics and hundreds of thousands of comments to find the most provocative conspiracy theories of the digital age. With more than 2 million visitors each month and 2.2 million pages of content on nearly 400,000 different topics, ATS is the most popular and relevant Internet source for a project of this scope.
Dubbed as the "Encyclopedia Conspiratoria" by author and reviewer Andy Lloyd, this new book written in a journalistic style from Jim Marrs is an ideal first-read for anyone who has wondered what motivating factors might really lie behind the headlines and stories of mainstream news. Indeed, readers are assured of level-headed approach to provocative topics, as Publishers Weekly has commented, "Marrs is sensible and straightforward, giving every side of disputed questions."
During the past century a subculture of like-minded people have become concerned that major contemporary and historical events were not caused by "what we've been told" through the mainstream media or our history books. Generally described as "conspiracy theorists," these people are passionately concerned about uncovering truths. With the advent of the Internet, the ranks of conspiracy theorists have swelled remarkably. The web is brimming with hundreds of variations on thousands of conspiracy theories. While some "theorists" might engage in dubious flights of fancy, issues of veracity and validity aside, the staggering volume of people with provocative questions in search of simple answers. For those in search of trustworthy and truthful answers, quick access to accurate and complete information about a wide variety of subjects is critical.
The foremost web site for delving into all kinds of provocative questions is AboveTopSecret.com (better known as ATS). It was launched in 1997 by an inquisitive teenager named Simon Gray of Swindon, England. As word spread and the site's discussion board kept on growing, a passionate hobby evolved into the business model that gave birth to the "user-generated content ecosystem." Today, this genuine Internet phenomenon boasts more than 2.2 million pages of content on nearly 400,000 different topics. With more than 2 million visitors each month, ATS is the largest and most-popular web site devoted to the serious examination of conspiracy theories, among other alternative topics.
Now, thanks to an inspired collaboration between AboveTopSecret.com and internationally renowned, New York Times best-selling conspiracy author Jim Marrs, nineteen questions that prey on millions of people's minds are gathered together and thoroughly scrutinized in one riveting volume, Above Top Secret: Uncover the Mysteries of the Digital Age. Led by Marrs' insightful journalistic approach, the public can at last have some clear--and sometimes stunning--answers to the most widely debated, most controversial, and most chilling questions of our time. They include:
Was 9/11 an inside job?
Is the supply of oil peaking?
Why did the Air Force change its story on Stephenville?
Why did the Iraqi government want to ban Blackwater? 
Is free/alternative energy being kept from the public?
Is the Federal Reserve a scam?
Are "chemtrails" for real?
Is there a Nazi base in Antartica?
Who killed JFK?
What hovered over O'Hare Airport, gate 17c?
What flew over Phoenix?
Were the moon landings faked?
Who parked the moon?
What crashed at Roswell?
Is God an alien?
What will happen in 2012?

Some of these questions deal with mysteries of the universe that still defy scientific explanation. In the primitive past, such things would have been called magic. Today, they are more likely to be called extraterrestrial. Some are concerned with conspiracy, a term formerly disparaged by the mass media. However, since the attacks of September 11, 2001, obviously the result of someone's conspiracy, the term has been revisited and somewhat redeemed.
Just like the thousands of AboveTopSecret.com members, whose motto is "Deny Ignorance," readers of Above Top Secret: Uncover the Mysteries of the Digital Age are urged to study all sides of an issue and think for themselves. For example, consider the JFK assassination…Do you believe a politically motivated commission that concluded Kennedy was shot through the neck? Or do you believe the official autopsy report, supported by the hole in the President's coat and shirt, which indicates he was hit below the shoulder blade? Do you trust government pronouncements on the 1947 Roswell crash that have been changed four times? Or do you believe more than six hundred citizens who consistently tell a different story?
Throughout, Marr tackles controversial questions by asking the fundamental, reliable questions of journalism: Who? What? When? Where? and Why? Armed with these basics, solid information and hopefully a dash of deductive reasoning, readers will be prepared to take on the world of mystery and conspiracy.
"I don't believe that!" is not a valid argument.
About the Author:
Jim Marrs can justifiably be considered the world's leading conspiracy theory author, with multimillion bestsellers like Rule By Secrecy, The Rise of the Fourth Reich and the internationally acclaimed hit book that Oliver Stone used as the basis for his JFK movie, Crossfire: The Plot That Killed Kennedy. A native of Forth Worth, Texas, he has worked for several newspapers in his home state, including the Fort Worth Star-Telegram.
Above Top Secret: Uncover The Mysteries Of The Digital Age
By Jim Marrs
Published by: The Disinformation Company
Pub Date: December 1, 2008
ISBN: 978-1-934708-09-5
Format Original Trade Paperback
Pages: 284
Publicity: Internet, National and local TV, Radio and Print Publicity out of New York and Austin, Texas on December 13-17, 29-30, and January 2-6.
###