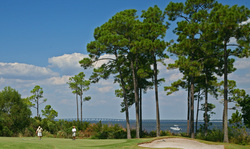 Destin, FL (PRWEB) December 3, 2008
Recently renovated, the clubhouse and guesthouse at Emerald Bay Golf Club are a spectacular site amongst the vibrant greens of the 18 hole championship golf course located on the eastern most edge of Destin and extending into South Walton.
Extensive renovations provide ample new outdoor dining space with an elegant atmosphere and breathtaking view of the lakes and lush landscaping. Covered space is over 450 square feet and a stone, wood burning fireplace adds tranquility and warmth for the fall and winter. A diverse menu offers an array of quick snacks, sandwiches and wraps freshly prepared by the house chef. Daily specials and weekly dinner events lighten up the atmosphere with culturally diverse themed evenings planned throughout the year. Beverage offerings include an expanded offering of imported liquors, beers, wines and the favorite domestics.
Starting at just $800 a night, the updated eight bedroom, eight bath Guesthouse sits just west of the Clubhouse and offers a convenient solution for golf groups and travelers who prefer to experience the all encompassing golf vacation. Special golf rates, superior service and convenience are provided along with a host of additional concierge services including the ability to cater special requests such as shrimp boils, barbecues and southern fish fry cookouts.
With the upgraded facilities, Emerald Bay Golf Club becomes a perfect spot for brides and grooms looking for a casually luxurious, yet comfortable venue for their reception or ceremonies. With the guesthouse next door - accommodations are convenient and parking is ample.
For our grand reopening, Florida residents are invited to tour the facilities, sample the cuisine and discover the convenience of the guesthouse. Florida residents and all military are welcome to bring a toy to donate to area children for the holidays and take advantage of a special rate of $30 per round plus tax until December 21, 2008 at Emerald Bay or Seascape Resort Golf Course.
For updated information on the Emerald Bay Clubhouse, Guesthouse Availability, Emerald Bay Grill Dinner events, or to book your tee times online please visit http://www.EmeraldBayGolfClub.com or call 850-GOLFBAY. Seascape Golf tee times can be booked online at http://www.Seascape-Resort.com or by calling 850-654-7888.
###