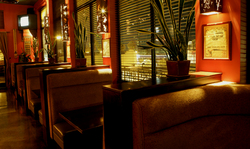 Hermosa Beach, CA (PRWEB) December 2, 2008
WHO: The South Bay Professional Connection welcomes you to the First Annual Hermosa Beach Christmas Village in Hermosa Beach, CA. Free admission. Benefiting Project NEEDS.
Participants include: Omaggio Art Glass, Luna G, RE:Style, Splashin' Gifts, Nü Shüz, Out of My Tree Candles and Bath, Beachy Keen Bay, Fernando's, Hermosa General Store, Breathe, Mani Pedi Cutie!, Mimosa, AR Salon, Bo Bridges Gallery/Spit Studio, Pilates Place, Fritto Misto, Paciuogo Gelato Café, Sangria, Dragon, Hennessey's Tavern, The Lighthouse Café, The Coffee, Bean & Tea Leaf, Lotus Yogurt Bar, Sharkeez, Buono Vita, New Orleans Cajun Café, Union Cattle Company, Zane's, Café Boogaloo, Girlfriend's Clothing & Salon, Hermosa Chiropractic, Treasure Chest, Becker Surfboards, Gum Tree, Yari, The Shore Restaurant and Lounge, and Pedone's Pizzeria.
WHAT: Hermosa Beach Christmas Village is a shopping and dining extravaganza with over 35 stores, restaurants, and businesses involved. Holiday gift specials, Christmas decorations, special celebrity appearances, and discounted food and drinks offered throughout Hermosa Beach.
Special Attractions:

A canned goods and non-perishable food drive for Project NEEDS, a local food bank
A holiday Dessert Competition at The Shore Restaurant and Lounge featuring Chef David Linville, Chef Annette Gallardo, Hermosa Beach City Councilman, Michael DiVirgilio, and Project NEEDS/St. Paul Pastor, Cheryl Kelly, 3pm - 6pm
Live samba dancing to Brazilian music at Breathe
Free bull rides at Union Cattle Company with Project NEEDS donations
Free pictures & autographs with X-Games Gold Medal Freestyle Moto, Nate Adams and Jeremy (Twitch) Steinberg at Bo Bridges Gallery/Spit Studio to first 25 guests
One-of-a-kind, unique gifts and holiday specials at all the local establishments
Christmas cheer with family and friends ...
WHEN: Sunday, December 7, from 12pm - 8pm
WHERE: Pier Ave in Hermosa Beach down to Pier Plaza and along Hermosa Ave.
WHY: To bring the community and visitors together in a Christmas celebration with lots of specialty gifts, one-of-a-kind designer items, and eco-friendly home décor shopping opportunities, and discounted delicious holiday food and drinks at participating locations.
The Christmas Village benefits Project NEEDS, a local South Bay food bank.
Christmas Village Sponsors include: The Shore Restaurant and Lounge, Baja Sharkeez Hermosa, Union Cattle Company, Sangria,Paciugo Gelato, and The Joy Writer PR & Marketing.
For more information, visit: http://www.thejoywriter.typepad.com/thejoywriterpr
###