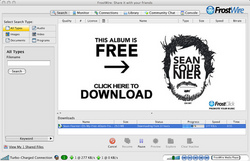 Spread it like the plague.
Milford, CT (PRWEB) December 2, 2008
Musician Sean Fournier harnesses the power of Peer-to-Peer networking to distribute his free album, 'Oh My', to hundreds of thousands all over the world via FrostWire's welcome screen. Within the first weekend, this exposure returned over 25,000 complete downloads for this independent singer/songwriter.
Fournier's 'Oh My' is the first free album download to be featured on FrostWire's Welcome Screen, which is a new feature designed to help musicians and content owners share their media for free on the FrostWire network.
'Oh My' is a six-track album which was created to be 100% free. Sean encourages his listeners to download it, share it, give it friends and family - and do anything within their power to "Spread it like the plague."
Aside from it's recent exposure on FrostClick.com, listeners can get their hands on 'Oh My' at Sean Fournier's Official Website.
###