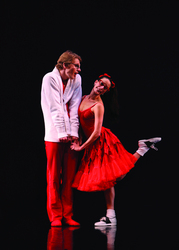 San Francisco Chronicle reviewer Mary Ellen Hunt claims,
San Francisco, CA (PRWEB) December 2, 2008
Smuin Ballet, the sexy, vibrant and entertaining dance company with roots in classical ballet, announces their first annual collaboration with the US Marine Corps' Toys for Tots charity and is inviting fans to celebrate the season by helping families in need. Anyone bringing a new, unwrapped toy to The Christmas Ballet performance at the Yerba Buena Center for the Arts box office in San Francisco on December 21st will receive a buy-one-get-one-free offer for the 7pm show.
Smuin Ballet chose to support Toys for Tots because of its mission to make the spirit of the holiday season a reality for the communities it serves. This message is very similar to the founding principle of Smuin Ballet: the Company shall present works of the highest quality of dance in a way that is accessible to a wide audience. Smuin Ballet is known for its community involvement in a variety of other formats including public performances, rural community tours and its On Your Feet! educational outreach program. For more information on Smuin Ballet community programs, please visit http://www.smuinballet.org/go/default/outreach/.
Smuin Ballet's annual holiday program The Christmas Ballet is a Bay Area tradition full of holiday fun and frolic. Featuring an elegant Classical Act and joyful Cool Act, The Christmas Ballet is a magical treat for audiences of all ages. Calling The Christmas Ballet "Michael Smuin's spiffy, toe-tapping alternative to the avalanche of "Nutcrackers…," San Francisco Chronicle reviewer Mary Ellen Hunt claims, "As with the best of 'Christmas Ballet,' and indeed the best of Smuin's work in general, there's not only a light-hearted, winking sense of fun, but also just a lot of great dancing." The 2008 Edition will feature new additions from guest choreographers Val Caniparoli and Viktor Kabaniaev as well as Smuin Ballet's Choreographer in Residence Amy Seiwert.
The Company will also celebrate the holiday season with their Santa's Sweets event, where the young and the young-at-heart are welcomed to sample sweets brought by Santa himself and meet members of the Company. Parents are welcome to bring their cameras for pictures with the Smuin Ballet dancers and Santa. The event will follow the December 21st 2pm performance at Yerba Buena Center for the Arts in San Francisco and is open to the public.
Schedule of Events
The Christmas Ballet - Yerba Buena Center for the Arts - San Francisco
December 17- 28
Santa's Sweets Event following Dec. 21, 2pm show
Toys for Tots Event, Dec. 21, 7pm show
Tickets: 415.978.2787
About Smuin Ballet
The company was born of the belief that original works of dance of the highest quality could be accessible to a wide audience. Taking this belief to heart, Michael Smuin began choreographing for a company of dancers he personally selected for their exceptional talent and personality. Michael created more than forty beautiful, joyful, theatrical, and sexy ballets that are the lifeblood of the Company. Smuin Ballet performs three programs each season in San Francisco, Walnut Creek, Mountain View and Carmel. For more information or to purchase tickets, please visit http://www.smuinballet.org.
Press Contact:
Mary Hand
Smuin Ballet
415-495-2234 ext.2
mary@smuinballet.org
###