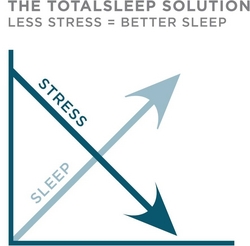 a root cause of most sleeplessness
Escondido, CA (PRWEB) December 3, 2008
Millions of Americans are too stressed out to sleep. They either can't get to sleep, or they can't stay asleep. FluidEssentials, Inc. is taking a completely new approach to getting restorative sleep with the launch of its natural sleep supplement, TotalSleep.
Unlike prescription drugs and over-the-counter sleep aids that can be habit-forming and have unpleasant after-effects, TotalSleep focuses on raising low serotonin levels, which is "a root cause of most sleeplessness," said Matt Titlow, founder and chief operations officer of FluidEssentials, Inc. Stress, tension and negative mood can deplete serotonin and make it difficult to sleep.
"The unique formula in TotalSleep increases serotonin levels naturally, helping you fall asleep more easily, stay asleep longer and wake up ready to go," he explained. "Healthy serotonin levels also mean improved response to stress, fewer carbohydrate cravings, reduced tension and increased energy and focus throughout the day."
The now-rested Laurie Platt is just one of the many users who is reporting sleeping better and waking more refreshed after using TotalSleep. Introduced to the supplement during the National Fibromyalgia Association's Walk of Fame in Orange, California, she said, "I have taken prescription sleep aids and they didn't help me sleep. For the first time in a long time, I got some sleep and didn't wake up four times a night. This stuff really works!"
According to Titlow, Platt is among the majority of sleep-deprived consumers who find TotalSleep effective after the first use. "Even more people notice dramatically improved sleep within three consecutive nights of use."
Designed to be taken nightly for stress and sleeplessness, the powdered supplement in convenient stick packs can be mixed with cold or hot water and comes in two popular flavors - Apple Tea and Cinnamon Tea. TotalSleep's main ingredient is LT-ONE™, ultra-premium L-Tryptophan, which boosts serotonin and begins the body's natural sleep cycle.
About FluidEssentials, Inc.:
FluidEssentials™ formulates and markets natural, great-tasting and easy-to-use health supplements to promote a more healthy, active and vibrant lifestyle. Products include: TotalSleep™, the first and only nutritional supplement drink mix to naturally boost serotonin levels for less stress and better sleep; and FlexEssentials™, the first nutritional supplement drink mix to boost the body's antioxidants for rapid recovery and relief for muscles, bones and joints. The water-soluble product line is available online at fluidessentials.com and drugstore.com or by phone at 866.62.FLUID.
###