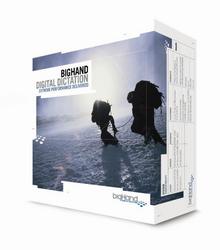 London, UK (PRWEB) December 3, 2008
BigHand has today announced that legal Top 200 client Coffin Mew LLP has streamlined working practices and experienced immediate return-on-investment following a formal efficiency assessment led by BigHand. Coffin Mew initially implemented the BigHand Digital Dictation system back in 2006 as a replacement for standalone equipment, but two years later Coffin Mew decided it was not fully exploiting the powerful workflow and service-orientated features of the award-winning BigHand3 system. The firm felt further leveraging of the sophisticated reengineering capabilities of the BigHand engine would enable them to more effectively withstand toughening economic conditions.
Sue Bowler, Partner at Coffin Mew LLP worked closely with a senior BigHand Consultant to conduct the review, and commented:
''Law firms are consistently reporting impressive return on investment as a result of installing BigHand software. I was concerned that we hadn't been ambitious enough with our workflow following the initial move over to the BigHand system, and that Coffin Mew hadn't fully realised the scale of ROI that others have reported. We therefore commissioned a BigHand Consultant to come in and undertake a comprehensive review of our BigHand working practices and workflow structure, in conjunction with the firm itself carrying out an internal review of all working practices in order to ensure the optimisation of the high level of investment in IT.
Following the review, BigHand made a number of practical recommendations which would enable us to simply and immediately increase efficiency. Those recommendations have now been implemented across the firm with enormous success; we now have the structure in place to ensure that we achieve the ROI that we wish to see. I am delighted with the results, and thoroughly recommend - particularly in the current climate - that other firms work with BigHand to analyse their system set-up and working practices to ensure they are maximising their return on investment.''
The review undertaken with Coffin Mew LLP was based on the culminated experiences of over 620 law firms now using BigHand software, and followed a succession of firms reporting cost savings via BigHand over the last 12 months. Those examples have included:

UK Legal aid firm Venters Solicitors saved £50,000 in only 12 months after installing the BigHand digital dictation system, savings that equate to over £3,000 per fee-earner, per year, at the firm.
US firm Marshall, Dennehey, Warner, Coleman & Goggin realised a reduction in document turnaround times of 300%, plus an estimated annual saving in administrative expenses of $1500 per attorney.
Top 200 UK firm Bermans made savings by being able to recruit more lawyers without increasing the firm's pool of secretaries, as well as having removed all document production backlogs.
UK Legal Aid and Legal 500 firm Glaisyers increased its fee earning capacity with zero growth in its support team. The firm is forecasting further fee earner growth for 2008, without an increase in support.
UK Legal 500 firm Shulmans has increased its work share culture and thereby facilitated an improvement in the fee earner to secretary ratio; recently the firm was able to absorb the loss of a secretary entering retirement, without replacing her.
About BigHand
BigHand is based out of Chicago, London, Sydney and Toronto. BigHand is the leading digital dictation vendor in the global professional services sector. BigHand3 was awarded 'Best of Breed System of the Year' at the Legal Technology Awards for 2008, and BigHand Mobile (BlackBerry Edition) was voted 'Mobile Product of the Year' at the CNET Business Technology Awards 2008. BigHand has also been nominated in the Sixth Annual Law Technology News (LTN) Awards for 2009 as 'Dictation System of the Year' and 'Mobile Tool of the Year'. Further information is available at http://www.bighand.com
###