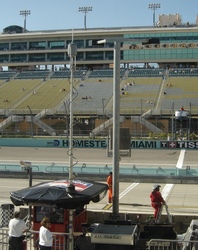 This year's winners demonstrate, once again, that innovative, business-minded IT is the lifeblood of successful organizations
Kanata, Ontario (Vocus) December 3, 2008
The Indy Racing League™ (IRL) and BelAir Networks, the leading provider of mobile broadband network solutions, today announced that the Indy Racing League was named a winner of the prestigious InfoWorld 100 for its mobile broadband wireless network, supplied by BelAir Networks. These annual awards honor projects that demonstrate the most innovative use of cutting-edge technologies to further a project's business goals.
The Indy Racing League, the sanctioning body for the IndyCar Series and Firestone Indy Lights, hosted races across the U.S., featuring the fastest closed-course racing cars in the world. During these races the staff wanted an easy-to-install broadband network that eliminated the need for costly wiring and allowed staff to be completely mobile at the racetrack. To meet these demands the IRL turned to high-speed broadband wireless from BelAir Networks to support multiple applications including enterprise VoIP and high-speed Internet access.
"We are honored to be recognized by InfoWorld as a technology innovator," said Chuck Ferguson, Senior Director of IS and Telecommunications, Indianapolis Motor Speedway. "Our decision to go wireless this year generated numerous benefits including reducing the expense of costly wired connections, saving staff time, and improving efficiency. The InfoWorld 100 Award validates our decision to move forward with this innovative mobile approach to our networking requirements."
The first IndyCar Series race of the 2008 season took place at the Homestead Miami Speedway on March 29th and the final race took place on September 7th at the Chicagoland Speedway in Joliet, Illinois, and the same wireless network from BelAir Networks was used at each unique location.
"This year's winners demonstrate, once again, that innovative, business-minded IT is the lifeblood of successful organizations," said Jason Snyder, senior editor for InfoWorld.
About BelAir Networks
BelAir Networks is the first company to offer scalable, mobile wireless broadband mesh networking solutions with the highest quality for data, voice and video. BelAir's wireless networking solutions are built on the only multi-service architecture for municipal wireless broadband deployments of Wi-Fi, WiMAX and 3G Cellular networks. Built specifically for outdoor-in deployments, BelAir Networks' patented solution delivers the lowest cost per user and deploys in days, blending into the physical infrastructure of downtown business districts, hotels and resorts, and campuses. Founded in 2001, BelAir Networks is a privately held company. For more info, visit http://www.belairnetworks.com.
About InfoWorld Media Group
InfoWorld Media Group helps Senior IT Decision Makers choose the right technology, within the context of a cohesive strategy, for business impact at their organizations. Rather than merely covering the enterprise technology market, InfoWorld identifies and promotes emerging technology segments that add unique value for the organizations that implement them, as well as the vendors that provide those solutions. Using an integrated communications approach including online, events, research, and a continued investment in an independent Test Center, InfoWorld analysts and editors provide both hands-on analysis and evaluation, as well as expert commentary on issues surrounding emerging technologies and products. Visit InfoWorld at http://www.infoworld.com.
All product and company names are trademarks of their respective companies.
###