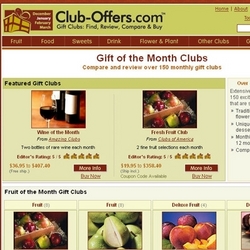 Austin, TX (PRWEB) December 3, 2008
Finding budget-friendly holiday gifts is no easy feat, which is why the folks at Club-Offers.com have been working tirelessly behind the scenes to add over 30 great money-saving gift clubs to the Website in order to help shoppers save some serious cash this season.
Consumers can now save on presents of every kind by learning about, comparing and joining more than 150 clubs which feature everything from traditional holiday sweets to comfort food and snacks, all in one easy place.
Sumptuous Spirits
For those in search of a little holiday cheer, Club-Offers.com has 20 different drink-of-the-month clubs. Users can get monthly wine, beer, coffee and tea from their favorite region, find highly-rated vintages and brews in their price range or have beverages paired and delivered with gourmet hors d'oeuvre. Smart shoppers can skip high liquor store prices and save on every bottle while avoiding the faux pas of showing up to a holiday party empty-handed.
Tasty Treats
Speaking of savings, Club-Offers.com users can take advantage of new clubs to get ridiculously low prices on holiday must-haves like pies, cakes, cookies, chocolate and more. With dessert-of-the-month clubs, mouth-watering, homemade desserts sell for more than half off bakery prices -- not to mention the convenience of free oven-to-doorstep delivery.
Other Great Gifts
Other top-rated gifts include monthly fresh fruit clubs (a great idea for a healthy holiday gift) -- as well as clubs for prime cut USDA Choice steaks (perfect for Dad), exotic olive oil from around the world (flatter the foodie in the family), and even fresh-cut roses. In fact, flower and plant-of-the-month clubs can save members up to $20 per bouquet and help them pamper friends and family without paying astronomical prices for blooms during the giving season.
Club-Offers.com is the only gift club site that serves up all the details of each club, so no one gets blindsided by hidden fees or conditions. Online shoppers always know exactly what they're ordering, get complete information on all pricing options and can cash in with up-to-date coupon codes and free shipping offers. The comparison feature also lets users compare clubs side-by-side to help them find the very best deals.
In tough economic times like these, gift clubs present the perfect solution for holiday shoppers seeking festive but frugal items for everyone on their list.
About Club-Offers.com:
Club-Offers.com is a complete resource and guide for learning about and comparing the best gift clubs. The site helps consumers find, review, compare and buy unique monthly gifts for family, friends, clients and employees -- with over 150 monthly gift clubs in 20 categories from more than 45 online stores.
###