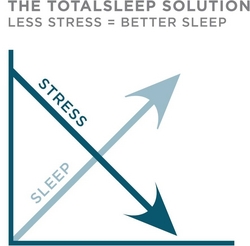 Tryptophan and serotonin are essential in the body's reaction to daily and holiday stressors
Escondido, Calif (PRWEB) December 9, 2008
The holiday season can bring a lot of joy, happiness and togetherness, but for some it can also bring stress and sleeplessness. Unfortunately, stress and anxiety disrupt the natural sleep cycle because they deplete the body's Tryptophan, which begins the sleep cycle.
As night falls, the brain starts converting Tryptophan to serotonin, serotonin to melatonin and then you fall asleep. Without adequate levels of Tryptophan, the sleep cycle is disrupted and the brain's serotonin levels are low. This is important particularly during the holidays because serotonin is involved not only in healthy sleep, but also in positive mood and appetite control.
To combat Tryptophan and serotonin depletion you can supplement with Tryptophan itself. For example, TotalSleep™ is a healthy drink mix that uses Tryptophan to naturally boost serotonin for less stress and better sleep. It is non-habit forming and can be used nightly; and it doesn't require eight hours' sleep in order to wake refreshed. TotalSleep is a unique formula because it contains LT-ONE™ ultra-premium L-Tryptophan, GABA, Ashwagandha and Magnesium, all of which help manage stress.
"Tryptophan and serotonin are essential in the body's reaction to daily and holiday stressors," states Matt Titlow, founder and chief operations officer of FluidEssentials, Inc.™. "At optimum levels, Tryptophan and serotonin provide beneficial results to mood, sleep patterns and overall energy,"
With the holidays nearing, it's important to prepare ourselves for the stressors that most of us face. A few simple tips to try and avoid these are:
1. Remember your friends- positive social interactions help manage stress and tension
2. Eat right and exercise - this can help naturally relieve stress and maintain healthy serotonin levels
3. Get enough sleep - lack of sleep can cause added stress
Another option is trying natural sleep alternatives like TotalSleep. With a natural boost in Tryptophan and serotonin, you can get to sleep easier at night, wake refreshed and also have days full of energy, positive mood and less stress.
About FluidEssentials, Inc.
FluidEssentials™ formulates and markets great-tasting and easy-to-use natural health supplements to promote a more healthy, active and vibrant lifestyle. Products include: TotalSleep™, the first and only nutritional supplement drink mix that naturally boosts serotonin levels for less stress and better sleep; and FlexEssentials™, the first drink mix to boost the body's antioxidants for rapid recovery and relief for muscles, bones and joints. The water-soluble product line is available online at fluidessentials.com and drugstore.com or by phone at 866.623.5843.
###