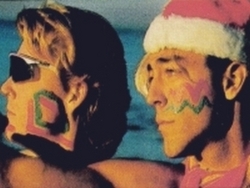 The resilience of Christmas In Malibu is as inspiring as it is gratifying
Malibu, CA (PRWEB) December 4, 2008
This holiday season marks the twentieth anniversary of the novelty holiday hit "Christmas In Malibu," written and produced by media veteran Joe Klein in 1988. It was a summer day over two decades ago when Klein had a musical epiphany while sitting on the beach in Malibu, California. Within a few hours that vision had spawned a song--a catchy holiday tune about a forlorn surfer who breaks his board just before Christmas and is delivered a new one on Christmas day by a surfing Santa Claus. Appropriately, Joe titled the song Christmas In Malibu.
Christmas in Malibu was recorded in the fall of 1988 at Motown studios in Hollywood. To perform the song, Joe hired a couple of surfers he found hanging out on the beach, one of whom was a young musician and singer named Karma Auger, son of the famed English keyboard player Brian Auger. Klein named the novelty act The Rad Dudes.
With no time to secure a record deal and no label to release it, Joe decided to promote Christmas In Malibu himself. He pressed up several hundred records and began calling upon all of his radio and trade magazine contacts to support the song. Nearly all of them agreed to help, and Christmas In Malibu world-premiered on top-40 radio powerhouse KIIS-FM in Los Angeles just after Thanksgiving. Within a week, the record was being played on several other L.A. stations.
Joe mailed out records to a couple hundred more top-40 stations and placed a full page ad for the song in Billboard magazine. Within days, scores of stations around the country were playing Christmas In Malibu, and it quickly became the most requested holiday tune on many of them.
Klein hired a video producer, small crew and a few models and, with nothing more than a few notes scribbled on a legal pad, shot a music video of the song in a single day in early December. The video was edited the following day and sent off to MTV. The music channel liked it and agreed to air it during the week before Christmas. With that, Klein made several more copies of the music video and sent them to other major national video outlets, which also aired the video during the 1988 holiday season. Christmas In Malibu earned the bizarre distinction as that year's biggest holiday hit song not available in any stores. Still, Klein had accomplished a seemingly impossible task. He recorded and successfully promoted a record without any record company support.
Buoyed by the surprise success of Christmas In Malibu, Joe spent the first few months of 1989 recording additional material and enhancing the concept.. He pitched the Rad Dudes package to several major record labels. But, sadly, it was not to be. The record companies simply didn't share the vision. Deflated, Klein disbanded The Rad Dudes, but did manufacture several thousand cassettes and promotional posters and arranged for limited distribution of the track as a cassette single for the 1989 holiday season.
The song and music video continued to receive airplay during the holidays for several years and a few thousand cassettes were sold. In 1993, Joe manufactured a couple hundred promotional CD's of Christmas In Malibu and an additional track by The Rad Dudes, which he gave to friends as holiday gifts for the next couple of years. By the mid-nineties, however, Christmas In Malibu had quietly disappeared from the airwaves, and Klein left the music business to pursue other interests.
In 2005, Joe got back in to media production. He launched a company called The Podcast Voice Guys and began producing voice-overs for podcasts and other new media properties. Newly energized, Klein dug out the old master tape of Christmas In Malibu, converted it to digital audio and uploaded the track to the Podsafe Music Network, a new online distribution site for independent music artists. Much to his surprise, dozens of popular podcasters that had already amassed sizeable audiences in the new medium found the song on the network and featured it on their podcasts during the holidays. A decade after the song had faded into the musical sunset, Christmas In Malibu was back.
In 2006, Klein entered into a distribution deal for Christmas In Malibu with a new online music distribution service in San Francisco called IODA, which placed the track with dozens of major online retailers worldwide. Joe then uploaded the music video to YouTube, Yahoo! Video, Google Video and several other viral video sites, where it received tens of thousands of views by the end of the year. Last year, scores of mainstream radio stations joined the podcasters and began playing the offbeat holiday classic once again, while the video spread to more viral video sites and hundreds of blogs.
"The resilience of Christmas In Malibu is as inspiring as it is gratifying," says Klein. "The song's resurgence validates all the hard work that went into the project and speaks volumes about the timeless appeal of a good holiday song."
This year marks the twentieth anniversary of the original release of Christmas In Malibu, still enjoying its resurgence and a worldwide audience that Klein himself could never have imagined when he wrote the song. Meanwhile, Joe's production business is thriving and The Podcast Voice Guys was renamed New Media Creative this past summer. The company's website and blog currently features a post with the story of the holiday classic that made a bit of music history two decades ago and continues to spread holiday cheer to this day.
Meanwhile, rumors persist that Santa can still be spotted catching a few waves in Malibu on Christmas day each year before getting some badly needed rest. There have even been reports of hearing old St. Nick bellowing out his classic chant as he hangs ten. "SURF'S UP, DUDES! HO! HO! HO!"
For additional information about the song, the recording or the video, contact Joe Klein or visit the New Media Creative company website. Christmas In Malibu can be viewed on You Tube, Yahoo! Video, Google Video, Blip.TV and several other popular video sites. The audio track is available for download at iTunes, Amazon, EMusic and other major online retailers worldwide. The song is licensed for commercial airplay by ASCAP and is cleared for royalty-free play on podcasts or blogs.
Contact:
Joe Klein, Founder
New Media Creative
702.425.8620
http://www.newmediacreative.com
###