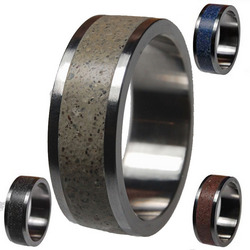 My goal with concrete rings is to make something unique for people to wear. These rings, made from steel and concrete, have a smooth polished finish, are light, durable and comfortable
Roseville, CA (PRWEB) December 9, 2008
Studio Anello LLC announces the release of their innovative jewelry line, Concrete Rings. These rings, made of stainless steel, and inlaid with 100% concrete, provide a unique new look. Concrete Rings are constructed with high strength, hardened Stainless Steel; the same steel used in surgical tools and the popular "Ginsu" knives. The inlay, filled throughout the center of the ring, is 100% concrete. It has been sanded, polished and sealed to create a distinctive natural rock finish. This affordable ring is currently available in four colors including natural, black, red, and blue, and comes in sizes 4-13. Studio Anello backs these and all their products with a two year replacement warranty.
"My goal with concrete rings is to make something unique for people to wear. These rings, made from steel and concrete, have a smooth polished finish, are light, durable and comfortable," Michael Guenther, owner of Studio Anello LLC states.
Although these rings were originally designed for men, they have had great response from women as well. "I would love for my fiancé and I to have matching rings, we both love these Concrete Rings!" says Amy Smith from Colorado, in an email through the website.
Concrete Rings are also getting great feedback from the artist community. Valerie Gorrell a notable ceramics artist in Laguna Nigel, CA says, "I just love these rings; I can't want to see them in galleries."
Studio Anello LLC is located in Roseville, CA, where its products are locally manufactured and are quality inspected. Concrete Rings are available on the website http://www.concreterings.com and in local retail stores such as Heritage Apparel in Roseville, CA.
Studio Anello, LLC
http://www.studioanello.com
Click http://www.studioanello.com/images/natrng800.jpg for a high resolution image
Media Contact: Michael Guenther
925-640-7385
mlguenther(at)gmail(dot)com
###