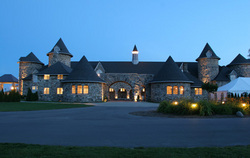 We're incredibly honored at Castle Farms to be recognized for all the hard work that went into restoring this castle
Charlevoix, MI (PRWEB) December 4, 2008
Keep Michigan Beautiful, Inc, (KMB) awarded Linda Mueller of Castle Farms their highest honor: the President's Award. This award is given to recognized projects that contribute to an exceptional program, project or person who exemplifies the goals of KMB. Linda Mueller received this honor for her restoration of Castle Farms, a historic castle in Charlevoix Michigan which has been converted into a Michigan wedding and events venue while preserving its historic beauty.
Keep Michigan Beautiful recognizes environmental improvements including recycling, clean-up projects, site restoration, beautification efforts through plantings and all other programs that improve out State of Michigan. All of the nominated entries are of an exterior nature. KMB awarded Linda Mueller the President's Award based on the size of the project and her attention to detail while undertaking the restoration of Castle.
In addition to receiving this award, Linda Mueller was also asked to be the keynote speaker at the Keep Michigan Beautiful awards banquet where she described the restoration process over the past six years.
"The Charlevoix community has benefited from the restoration by the many functions that have been held and enjoyed on the property - not the least of which is the large number of lovely castle weddings and many very happy brides," stated the Keep Michigan Beautiful award committee in explaining their selection for this award.
"We're incredibly honored at Castle Farms to be recognized for all the hard work that went into restoring this castle," said Linda Mueller, owner of Castle Farms and recipient of the award. "It was certainly a labor of love to get this castle back to its original beauty, but it was worth every bit of effort - and we're reminded of this every time we see the magical look on one of our bride's faces when she realizes she can celebrate her special day like a true princess," said Mueller.
To book your wedding or event at Castle Farms wedding halls in Michigan, contact Castle Farms today at 231-237-0884, or visit http://www.castlefarms.com.
About Castle Farms:
Castle Farms, a French Renaissance style castle with stone walls and towers, fragrant gardens and romantic courtyards, is a taste of European charm right in Michigan. Located in Charlevoix, Castle Farms is now a wonderful place to host a wedding, event or festival. Built as a dairy farm in 1918, the Castle went through numerous changes over the years from and art studio and gallery, a music concert venue and eventually, to an empty ruin. Now restored by the Mueller's to its former beauty, Castle Farms is open for special events and daily tours, and can host multiple weddings or events at once. To book your Michigan wedding or corporate event, visit http://www.castlefarms.com.
###