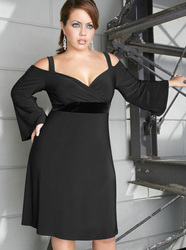 Los Angeles, CA (PRWEB) December 5, 2008
It has become more apparent in the fashion industry and in American society as a whole that an increasingly large percentage of consumers do not fit into the conventional ideal body size or type. Demand for more fashionable plus size wholesale clothes is steadily increasing and the market is adjusting to accommodate it. The outlook for plus size wholesale clothing sales is promising even in slowing market conditions.
While plus size wholesale clothes have been available for many years, the variety of styles available has always been inferior in comparison to standard size wholesale apparel. Previously catering to a very specific niche of the wholesale clothes market, manufacturers had not been incentivized to offer a wide range of fashion-forward wholesale clothing options. The gradual increase in average clothing size, however, has provided the necessary incentive for manufacturers and wholesale apparel suppliers to deliver plus size clothing that is both stylish and variable to retailers and customers.
Some forward-looking wholesale clothes suppliers like Apparelus.com, have expanded their collections to include large plus size clothing departments. Currently, Apparelus.com offers a broad assortment of plus size wholesale apparel in addition to their extensive collection of standard and junior size wholesale clothing. The plus size department at Apparelus.com features hundreds of fashion-forward plus size items including tops, pants, skirts, dresses and jackets. Their collection ranges from casual wear to sexy and trendy dressy wear. Apparelus.com continues to add more plus size garments to their collection to satisfy the growing demand for variety in this segment of the wholesale clothing market.
# # #