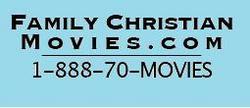 The Chronicles of Narnia, Prince Caspian
Jenks, OK (PRWEB) December 6, 2008
http://www.FamilyChristianMovies.com was launched by Lukas Media LLC in November and has been gearing up for the holiday season. Family Christian Movies is an online store specializing in Family and Christian DVDs, founded with a desire to "make the world's greatest Christian and Family-Friendly films available at a great price."
Lukas Media LLC's Family Christian Movies has entered the market with a massive inventory of over 200 titles in stock and ready to ship immediately to locations in the USA and abroad. A number of grand-opening promotions are also being offered on the sites.
Christmas titles that have gained a lot of momentum include "The Best Christmas pageant Ever," "The Christmas Shoes," and "The Christmas Blessing." Other titles that have been hot for the holiday season are the 6 DVDs in the "Love Comes Softly" series, based on the books by Janette Oke, and "Pilgrim's Progress, a Journey to Heaven", based on John Bunyan's classic.
Other categories include Christian Classics like Ben Hur, Apocalyptic Films like Left Behind, Apologetic Materials like Lee Strobel's "Case for a Creator," and Children's classics like the Veggie Tales Series, Documentaries like Ben Stiller's "Expelled - No Intelligence Allowed and Dramas like "The Lion the Witch and the Wardrobe."
Christian Blockbusters like "The Chronicles of Narnia, Prince Caspian" and "Fireproof Movie", starring Kirk Cameron are available for pre-order.
A 15% grand-opening discount is being offered to all customers using coupon code FCM15VCC in addition to free shipping for all orders over $77.
Other categories include:
Biblical Dramas,
Mission Movies,
Christian Documentaries,
Love Comes Softly Series,
Veggie Tales and other Children Christian Movies,
Prophecy and End times Movies,
Christmas Movies,
Billy Graham Movies,
Christian Movies in Spanish and more.
Family Christian Movies
1-888 70 MOVIES
###